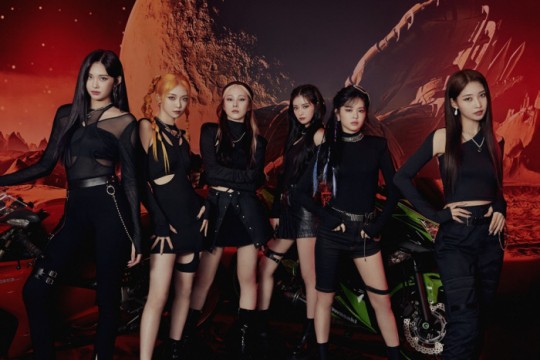 Kpop group EVERGLOW is starting full-fledged comeback activities. Everglow (E:U, Sihyeon, Mia, Onda, Aisha, Yiren) will appear on KBS 2TV's 'Music Bank,' which will air at 5 pm on December 3. They will perform the new title song 'Pirate' for the first time on a music show. After seven months, they made a comeback with the third mini-album, 'Return of the Girl' on December 1. The members showed off the mysterious yet intense visual of 'Space Pirates' and got a warm response from fans.
Everglow plans to invite viewers to their in 'Music Bank' with the members' unique charisma and improved visuals.
Meanwhile, 'Return of The Girl' is an album that contains worldview stories unique to the various musical spectrums shown by EVERGLOW so far. Upon its release, it charted all the songs on the Bugs real-time music chart, signaling comeback activities.
In addition, Kpop group Everglow won the 'Best Music Video Award' for 'First' at the 2021 Asia Artist Awards held on December 2.
Read More About: KINGDOM Won The 'AAA Focus Award' At The 2021 Asia Artist Awards
2021 kpop news
,
2021 kpop news updates
,
2021 news kpop
,
best kpop news site
,
breaking news kpop
,
daily kpop news
,
everglow
,
EVERGLOW First solo online concert
,
everglow girl group
,
everglow kpop
,
EVERGLOW kpop news
,
everglow news
,
everglow_last melody
,
EVERGLOW_The First
,
Korean celeb news
,
KPOP
,
Kpop 2021
,
Kpop artist
,
Kpop artists
,
kpop celebrity news
,
Kpop chart and news
,
kpop daily news
,
Kpop idols
,
Kpop latest news
,
Kpop news
,
Kpop news articles
,
kpop news update
,
Kpop recent news
,
KPop treasure
,
Kpop trend
,
Kpop trending
,
KPop trending news
,
Kpop trending now
,
kpop trending update
,
KPOP2021
,
KPOPIDA
,
KPOPNEWS
,
Kpopnews 2021
,
Trending
,
trending 2021
,
trending kpop
,
Trending Kpop news
,
trending kpop update
,
trending news
,
trending update kpop