Kpop group Everglow member Sihyeon shared her thoughts on their comeback with the new album, 'Return Of The Girl.'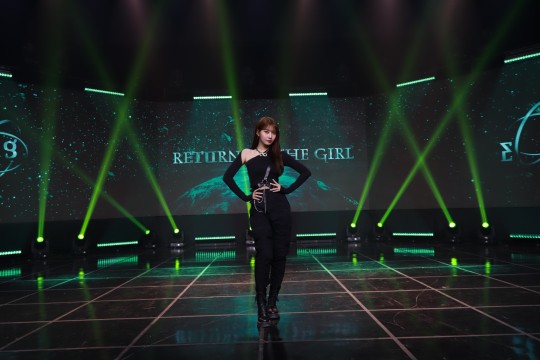 On the afternoon of December 1, Everglow held an online showcase to celebrate the release of their 3rd mini-album, 'Return of the Girl.'
'Return of the Girl' is an album that contains Everglow's diverse musical spectrum and a unique worldview. The title song 'Pirate' is a song that stands out for its dynamic song changes and composition. It has an exciting sound that makes it feel like a festival is unfolding in front of you just by listening to it.
On this day, Everglow made a comeback after their hiatus of about seven months. Sihyeon said, "I get nervous every comeback. I thought this album would be the last, and we prepared hard. We will provide performances that can be both fun to listen to and fun to watch. So, please look forward to it."
Everglow's new album includes the title song 'Pirate,' 'Back Together,' 'Don't Speak,' 'Nighty Night,' and 'Company' for a total of 5 songs.
Kpop group Everglow will release 'Return of the Girl' on major music sites at 6 pm on December 1.
Read More About: Youngwoong Lim To Release His Official Light Stick!
2021 kpop news
,
2021 kpop news updates
,
2021 news kpop
,
best kpop news site
,
daily kpop news
,
everglow
,
EVERGLOW First solo online concert
,
everglow girl group
,
everglow kpop
,
EVERGLOW kpop news
,
everglow news
,
everglow_last melody
,
EVERGLOW_The First
,
evermore entertainment
,
Korean celeb news
,
KPOP
,
Kpop 2021
,
Kpop artist
,
Kpop artists
,
kpop celebrity news
,
kpop daily news
,
kpop group SEVENTEEN
,
Kpop idols
,
Kpop latest news
,
Kpop news
,
Kpop news articles
,
kpop news update
,
Kpop recent news
,
kpop seventeen
,
Kpop trend
,
Kpop trending
,
KPop trending news
,
Kpop trending now
,
KPOP2021
,
KPOPIDA
,
KPOPNEWS
,
Kpopnews 2021
,
seventeen kpop
,
seventeen news
,
trending kpop
,
Trending Kpop news
,
trending kpop update
,
trending news
,
trending update kpop