Kpop group EVERGLOW spreads good influence through music with UNICEF. They will release the campaign song, 'Promise.'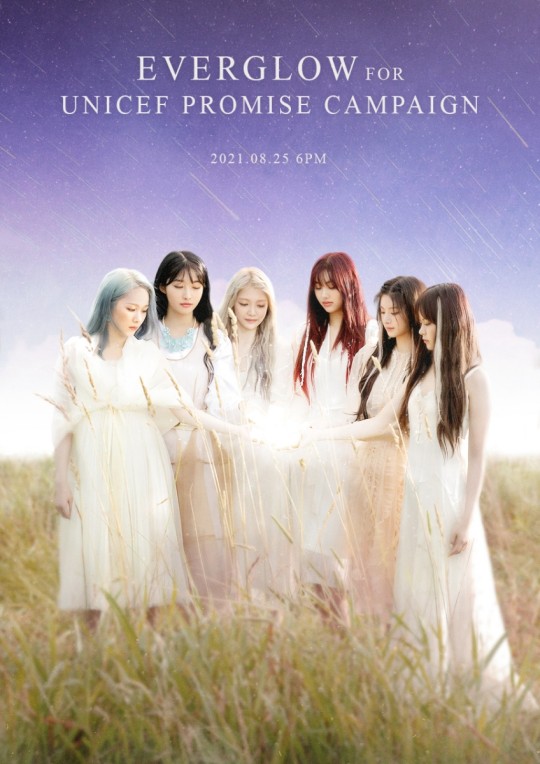 On August 25th, the agency said, "Everglow will release a new digital single 'Promise (for UNICEF Promise Campaign)' at 6 pm today."
'Promise' is a song with an addictive sound. It contains the message of hope that keeps ringing in your ears once you hear it. Therefore, 'Promise' has a special meaning as it will be the campaign song by UNICEF for children around the world.
Particularly, Everglow will start the UNICEF Promise campaign 'Dance Challenge' on August 26th, along with the release of the song. After capturing the choreography of 'Promise' in a video, fans will complete their participation by posting it on social media. Use essential hashtags such as 'Promise Challenge, Shining Promise, UNICEF, and Everglow.'
Kpop group Everglow's dance video will be out through the official social media and YouTube channels of UNICEF Korea. It will start on August 26th.
In response, Yuehua Entertainment added warmth by revealing support for music video production. They will donate an amount according to the number of participants in the dance challenge.
UNICEF Korea Committee said, "We started this campaign to communicate more with the younger generation about the crisis that children worldwide are experiencing."
Everglow said, "We are very happy to be able to help children around the world with UNICEF."
Recently, Everglow took the top spot on music shows in the first week of their comeback. It is with 'FIRST,' the title song of their third single, 'LAST MELODY.'
Also, their music video was successful such as ranking first on the YouTube Worldwide Daily Chart.
In addition, following the music videos for 'Adios' and 'DUN DUN,' they officially released the music video for the title song 'LA DI DA' of the second mini-album, '-77.82X-78.29.'
The number of YouTube views exceeded 100 million. In two years since their debut, they achieved 'triple 100 million views.'
Everglow's new digital single 'Promise (for UNICEF Promise Campaign)' will be available through various online music sites at 6 pm today.
The UNICEF promise campaign 'Dance Challenge' will run from August 26th to September 16th.
Read More About: Lee Hi Reveals Pre-Release Singles And Album Comeback Timeline
campaign song
,
daily kpop news
,
daily kpop update
,
everglow
,
EVERGLOW First solo online concert
,
everglow girl group
,
everglow kpop
,
EVERGLOW kpop news
,
everglow news
,
everglow_last melody
,
EVERGLOW_The First
,
KPOP
,
Kpop artist
,
Kpop artists
,
Kpop daily
,
kpop daily news
,
Kpop latest news
,
kpop latest updates
,
Kpop news
,
kpop news daily
,
Kpop recent news
,
Kpop trending
,
KPop trending news
,
Kpop trending now
,
KPOP2021
,
Kpopdaily
,
KPOPIDA
,
KPOPNEWS
,
latest kpop news
,
latest kpop updates
,
recent kpop news
,
trending kpop
,
Trending Kpop news
,
trending kpop update
,
trending update kpop