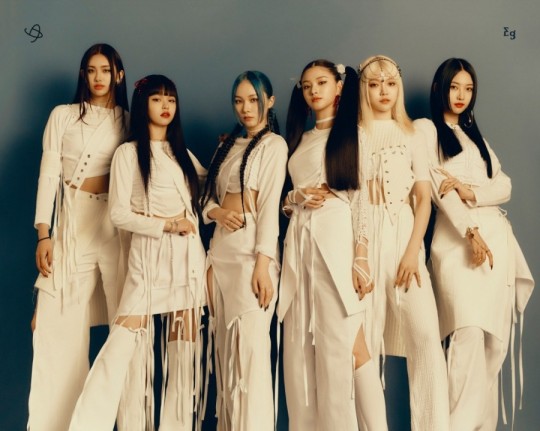 Girl group Everglow revealed that their charisma and beauty coexist.
Everglow (Sihyeon, Mia, Onda Aisha, Yiren, E:U) posted a group concept photo of their third single, 'Last Melody,' on its official SNS on May 12th.
The group photo showed Everglow, styled with a pure white outfit, contrasting the dark background. The unique charm of each member is felt. At the same time, the members' chic eyes that seem to be indifferent catches the eye of the fans.
The six members have a strong yet dreamy aura. Their appearance resembles a female warrior from the future, showing a strong aura just by standing.
Everglow's third single, 'Last Melody,' released 8 months after their previous album, '-77.82X-78.29′, will show the members' infinite charisma and signature perspective. They will surely capture the hearts of global fans once more with their powerful performance and charisma.
Everglow, who showed a different perspective with their own identity and high-quality music, will make a comeback with a stronger and more intense concept than before. It raises fans' curiosity and expectations.
Everglow, who came back after eight months, will release their third single, 'Last Melody.'
It will be available on various online music sites at 6 pm on May 25th.
Read More About: Daniel Kang Released 'OUTERSPACE' Featuring Loco
2021 kpop updates
,
everglow
,
everglow girl group
,
everglow kpop
,
everglow news
,
everglow_last melody
,
KPOP
,
Kpop 2021
,
Kpop artist
,
Kpop artists
,
Kpop idols
,
Kpop news
,
Kpop trend
,
Kpop trending
,
KPop trending news
,
Kpop trending now
,
kpop trending update
,
KPOP2021
,
KPOPIDA
,
KPOPNEWS
,
Trending
,
trending 2021
,
trending kpop
,
Trending Kpop news
,
trending kpop update
,
trending news
,
trending update kpop