The first solo online concert of the group EVERGLOW unveils.
EVERGLOW (E:U, Sihyeon, Mia, Onda, Aisha, Yiren) will host their first solo online concert, 'THE FIRST' at 3 pm on July 25th.
EVERGLOW's first solo online concert, 'THE FIRST,' will surely excite fans worldwide with colorful performances and special stories.
EVERGLOW has shown strong performances and expanded musical spectrum by releasing hit songs. It includes 'Bon Bon Chocolat,' 'Adios,' 'DUN DUN,' 'LA DI DA,' and 'FIRST.'
They plan to show their charms through this online concert.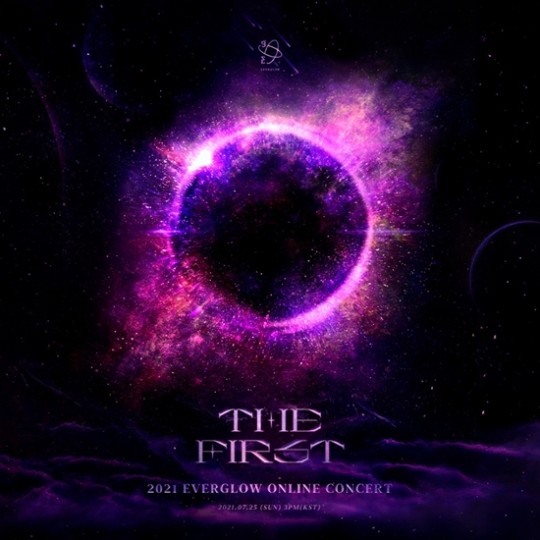 Previously, EVERGLOW finished their third single 'LAST MELODY' promotion last month with a warm response from fans. EVERGLOW ranked first in the daily ranking of Hanteo Chart, the largest album sales site in Korea. Also, they entered the top 10 on the Apple Music K-pop album chart in 34 countries worldwide. So, EVERGLOW is now standing as a global emerging powerhouse.
In addition, the title song 'FIRST' took first place on music shows in the first week of their comeback. Then, its music video took first place on the YouTube Worldwide Daily Chart, showing unstoppable growth. Particularly, even after the end of the activity, the number of views has been steadily rising. As of now, it is exceeding 60 million views.
In addition, the title song, 'Adios,' of the second single 'HUSH,' achieved first place on its first music broadcast. The current music video has 140 million views. Also, the music video for the title song,' DUN DUN, 'of the first mini-album 'Reminiscence' is writing a meaningful record, with 210 million views.
EVERGLOW is continuing its dazzling growth with the intense interest of domestic and foreign fans. Now, fans are paying attention to how EVERGLOW will surprise the public at its first solo online concert, 'THE FIRST.'
Fans can watch EVERGLOW's 'THE FIRST' through Interpark Live at 3 pm on July 25th.
Read More About: Kpop Idols Who Got Attention With Their Piercings (BTS Jimin, Hyuna, etc.)
2021 kpop
,
2021 kpop girl idols
,
2021 kpop news
,
2021 kpop news updates
,
2021 kpop updates
,
2021 news kpop
,
2021 updates on kpop
,
everglow
,
EVERGLOW First solo online concert
,
everglow girl group
,
everglow kpop
,
EVERGLOW kpop news
,
everglow news
,
EVERGLOW_The First
,
KPOP
,
Kpop 2021
,
Kpop artist
,
Kpop artists
,
Kpop news
,
Kpop trend
,
Kpop trending
,
KPop trending news
,
Kpop trending now
,
kpop trending update
,
KPOP2021
,
KPOPIDA
,
KPOPNEWS
,
Kpopnews 2021
,
Kpopnews2021
,
Trending
,
trending 2021
,
trending kpop
,
Trending Kpop news
,
trending kpop update
,
trending news
,
trending update kpop