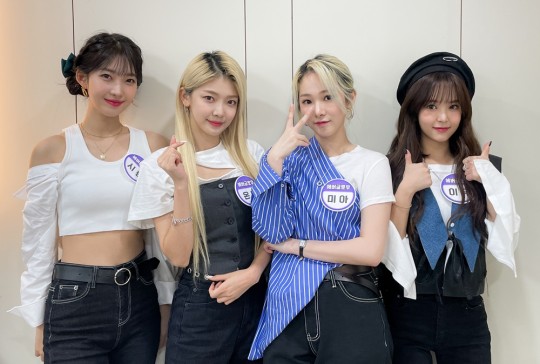 Kpop group EVERGLOW members E:U, Shihyeon, Mia, and Onda will appear on 'Immortal Songs: Singing The Legend.'
E:U Sihyeon, Mia, and Onda will appear as a panelist in the special episode of KBS 2TV's 'Immortal Songs: Singing The legend,' which will air on October 9.
On this day, 'Immortal Songs' will be reinterpreted by pre-announcers representing the three broadcasting companies with various charms. Reports said that E:U, Sihyeon, Mia, and Onda will show off their sense of entertainment. Their bright energy adds vitality to 'Immortal Songs.'
They will show their sincere reaction to music as well as their witty talk.
Recently, Everglow released a single for UNICEF Promise Campaign and participated in UNICEF campaigns for children worldwide. As part of the campaign, they also conducted a dance challenge with UNICEF to spread good influence.
In addition, Everglow once again proved its global presence, with its Bon Bon Chocolat music video surpassing 100 million views on its official YouTube following 'Adios' and 'LA DI DA.'
In addition, the 'DUN DUN' music video proved its popularity by setting a record of 200 million views.
Furthermore, Kpop group Everglow is also actively performing global online performances such as appearing in the '2021 New Beginnings with K-Pop Superfest.'
Read More About: Peakboy Participated In The Production Of Paul Kim's New Single
2021 kpop news
,
2021 kpop news updates
,
2021 kpop updates
,
2021 news kpop
,
best kpop news site
,
daily kpop news
,
everglow
,
EVERGLOW First solo online concert
,
everglow girl group
,
everglow kpop
,
EVERGLOW kpop news
,
everglow news
,
everglow_last melody
,
EVERGLOW_The First
,
Korean celeb news
,
KPOP
,
Kpop 2021
,
Kpop artist
,
Kpop artists
,
kpop celebrity news
,
kpop daily news
,
Kpop idols
,
Kpop latest news
,
Kpop news
,
Kpop recent news
,
Kpop trend
,
Kpop trending
,
KPop trending news
,
Kpop trending now
,
KPOP2021
,
Kpopall
,
KPOPIDA
,
KPOPNEWS
,
Kpopnews 2021
,
latest kpop news
,
recent kpop news
,
trending kpop
,
Trending Kpop news
,
trending kpop update
,
trending news
,
trending update kpop