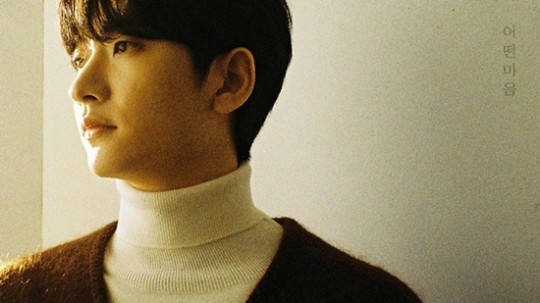 Kpop singer Eunki Hong began his comeback countdown by releasing the teaser image of his new single.
Eunki Hong raised expectations by releasing teaser images of 'What Feelings,' set for release at 6 pm on January 10, sequentially through his official social media accounts.




Eunki Hong stylishly matched the turtleneck and cardigan in the released teaser image. He shows off his mature appearance and deeper atmosphere, revealing the charm of a warm winter man.
Notably, the teaser added the film camera's own vintage and analog mood to maximize the sentimental sensibility.
Eunki Hong will visit listeners with his new single 'What Feelings' a year after 'ON&ON,' released in January last year.
'What Feelings' is a ballad song that contains the lyrics, "My clumsy heart. But, if it can comfort you, I will be happy to send it to you."
Eunki directly participated in the lyrics to add sincerity. His sweet voice and unique sensibility will surely stimulate the consensus of music fans this winter.
Eunki Hong debuted as a member of the project boy group RAINZ in 2017. He announced his full-fledged solo debut with his first mini-album, 'UNDEFINABLE: LOVE' in 2020. Recently, he appeared as JTBC's 19th singer of 'Sing Again Season 2 – Unknown Singer' and was recognized for his outstanding capabilities.
Meanwhile, Kpop singer Eunki Hong will release his fifth single, 'What Feelings,' on various music sites at 6 pm on January 10.
Read More About: Youngwoong Lim Ranks 1st On The Idol Chart Ranking For 41 Weeks In A Row
2021 kpop news
,
2021 kpop news updates
,
best kpop news site
,
breaking news kpop
,
BTS trending news
,
daily kpop news
,
Eunki Hong
,
Eunki Hong kpop
,
Eunki Hong new single
,
Eunki Hong news
,
Eunki Hong RAINZ
,
Eunki Hong songs
,
Korean celeb news
,
KPOP
,
Kpop artist
,
Kpop artists
,
kpop celebrity news
,
Kpop chart and news
,
Kpop current news
,
kpop daily news
,
kpop Eunki Hong
,
kpop Eunki Hong news
,
Kpop idols
,
Kpop latest news
,
Kpop news
,
Kpop news articles
,
Kpop news sites
,
kpop news update
,
kpop RAINZ
,
Kpop recent news
,
Kpop shocking news
,
kpop singer Eunki Hong
,
Kpop trend
,
Kpop trending
,
KPop trending news
,
Kpop trending now
,
kpop trending update
,
KPOP2021
,
KPOPIDA
,
KPOPNEWS
,
rainz Eunki Hong
,
shocking kpop news
,
shocking news on Kpop
,
shocking news updates
,
singer Eunki Hong
,
trending 2021
,
trending kpop
,
Trending Kpop news
,
trending kpop update
,
trending news
,
trending update kpop