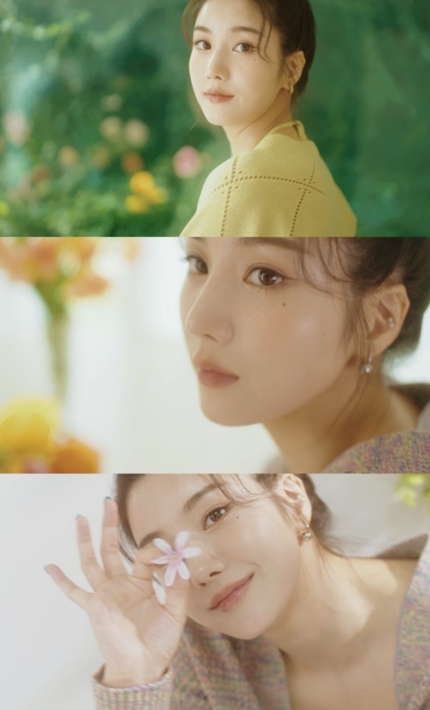 Eunbi Kwon, a former member of the Kpop girl group IZ*ONE, once again captured the global fan base with her unrivaled charm and tone. On August 16th, Woollim Entertainment released a lyric teaser photo and track video for 'ETERNITY' of Eunbi Kwon's first mini-album, 'OPEN' through their official social media and YouTube channel.
In the lyric teaser photo, Eunbi' Kwon is touching a blue flower. The lyrics of 'Now, you and I, we are always together' written along with this hinted at a song with a warm and positive message.
The track video of 'Eternity' attracted attention with a bright atmosphere. It is opposite to the previously released 'AMIGO' with a 'black chic' mood. Eunbi Kwon showed off her doll-like appearance in the dazzling sunlight with the bright flowers.
Particularly, 'Eternity,' which flowed along with a video, properly captured Eunbi's innocent and neat charm. So, it caught the attention of fans. The lyrics that promise eternity and her unique clear voice harmonize, raising expectations for this song's release.
Not only that, like 'Amigo,' 'Eternity' is yet to know exactly whether it is the title song or a side track of the album. So, it is fun to guess the title song of the album, 'Open.'
Eunbi Kwon was the first among IZ*ONE members to go solo, attracting keen attention from global fans. Eunbi Kwon, the leader of IZ*ONE and the representative 'all-rounder' of the music industry, is becoming more and more interesting to music fans. Many are curious about the new music and performance she will present through 'Open.'
Read More About: Somi Jeon, 'Dumb Dumb' Challenge Hits Over 100M Views
eunbi kwon
,
Eunbi Kwon ETERNITY
,
eunbi kwon izone
,
eunbi kwon OPEN
,
iz*one_eunbi
,
izone_eunbi
,
KPOP
,
Kpop 2021
,
Kpop artist
,
Kpop artists
,
Kpop idols
,
Kpop news
,
Kpop trend
,
Kpop trending
,
KPop trending news
,
Kpop trending now
,
kpop trending update
,
KPOP2021
,
Kpopall
,
KPOPIDA
,
KPOPNEWS
,
kwon eunbi
,
Trending
,
trending 2021
,
trending kpop
,
Trending Kpop news
,
trending kpop update
,
trending news
,
trending update kpop