ENHYPEN achieved an 'all kill' after two weeks of comeback.
ENHYPEN topped KBS 'Music Bank,' which aired on May 7th. It is with their title track 'Drunk-Dazed' from their album 'Border: Carnival.'
They recorded a total of winning three music awards.
'Border: Carnival' already recorded 450,000 pre-order sales, breaking its own record. After releasing their album on April 26th, they recorded 522,136 copies sold (Gaon Chart) in just 5 days. Because of that, they became half a million-seller. Also, the group showed off their musical power by simultaneously dominating the Hanteo and Gaon's April monthly album chart.
Furthermore,  ENHYPEN is also receiving hot interests in Japan. It topped Billboard Japan's comprehensive album chart (April 26-May 2), 'Hot Album' and 'Top Album Sales' charts. They also topped the 'Oricon' chart (April 26- May 2). Considering that ENHYPEN has not officially started its activities in Japan, this is a surprising achievement. This proves that ENHYPEN's future is bright. There is a Japanese member Niki on the team. Fans expect their position to grow even further if they start their earnest activities. It is by releasing Japanese original songs.
In addition, ENHYPEN also ranked 9th on the 'World Albums Chart.'
They also ranked 15th on the 'US Billboard' and 'Heatseekers Album Chart.'
They really dominated three major charts of Korea, US, and Japan.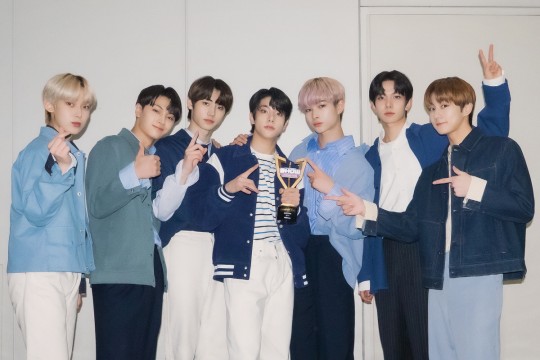 ENHYPEN has been showing off its musical power since its debut. Their debut album 'Border: Day One,' released on November 30 of last year, sold a total of 318,528 copies. It is just a day after its release. It is based on Gaon's Chart. They set a new record for the highest sales for a group album (single album) that debuted in 2020. In addition, they are proving their growth potential as a global group in just five months after their debut.
ENHYPEN's big weapon is that they can pull off a variety of concepts. It is ranging from expressing a refreshing boyhood to showing their intense charisma. They can perfectly express their powerful live performance as well as the distinct characteristics of each member. Also, they do not fail to convey their sincere music and messages to fans. It solidifies their background as a group.
ENHYPEN belongs to HYBE Labels. HYBE manages a compelling lineup of artists such as BTS, Tomorrow by Together (TXT), and Seventeen. HYBE Labels is a company that raised artists working on the global stage. They have the best know-how in targeting the global music market. HYBE's big advantage is a competent producer who occupied the Billboard main single chart 'Hot 100' with BTS. The company molds performance composition, making the enthusiasm for K-pop fans even bigger. They have the ability to actively utilize SNS platforms to unite music and kpop fans around the world.
The entertainment industry applying IT technology to plan and produce data-based results is also the secret of many successful artists. With skills and scientific support in place, ENHYPEN will surely emerge as a global rookie. Expectations are already high on ENHYPEN as they already dominated all fields. This includes music, record, and music broadcasts, with just two albums.
Read More About: ENHYPEN Sold Over 370,000 Albums In 5 Days!
2021 kpop news
,
2021 kpop updates
,
ENHYPEN
,
ENHYPEN ALBUM RELEASE
,
ENHYPEN News
,
enhypen_drunk-dazed
,
KPOP
,
Kpop 2021
,
Kpop artist
,
Kpop artists
,
kpop Enhypen
,
Kpop idols
,
Kpop news
,
Kpop trend
,
Kpop trending
,
KPop trending news
,
Kpop trending now
,
KPOP2021
,
Kpopall
,
KPOPIDA
,
KPOPNEWS
,
Kpopstars
,
Trending
,
trending 2021
,
trending kpop
,
Trending Kpop news
,
trending kpop update
,
trending news
,
trending update kpop