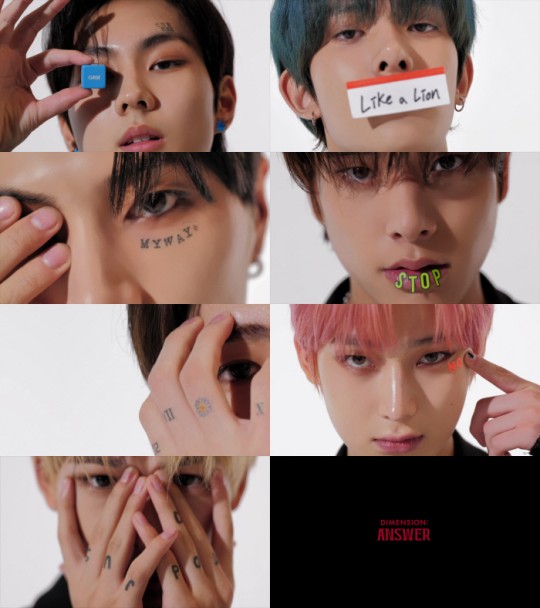 The Kpop group ENHYPEN has released their new album's concept content 'NO' version.
ENHYPEN (JUNGWON, HEESEUNG, JAY, JAKE, SUNGHOON, SUNOO, and NIKI) posted a personal concept film, and a group concept film for the first concept of their repackage album 'DIMENSION: ANSWER' on their official social media channels at 12 pm and 12:30 pm on December 28.
The concept film is a video of the members in the mood board and concept photos released earlier. The members are holding phrases or cubes containing some kind of meaning in the fast-changing screen, causing curiosity.
ENHYPEN captured the attention of fans with intense looks. They soon showed free poses and various facial expressions toward the camera. The members give off a more relaxed atmosphere. Remarkably, the unique charm of the seven members, contrary to the refreshing feeling shown in the last album, amplified expectations for the album.
ENHYPEN received enthusiastic responses by releasing various contents such as concept mood board, concept photo, and concept film ahead of the release of its first full-length album 'DIMENSION: DILEMMA.'
Those who introduced the new album's first concept content with the concept film of the 'NO' version as the last will unveil their second concept mood board, concept photos, and film on December 30 and 31.
Meanwhile, Kpop group ENHYPEN has emerged as a 'global Kpop rising star' by achieving a 'million seller' a year after its debut with 'DIMENSION: DILEMMA.'
So, expectations are high for ENHYPEN's new album, which excites fans worldwide just by the news of its high-speed comeback in three months.
Read More About: DRIPPIN Unveils First Concept Photos For The 3rd Mini-Album 'VILLAIN'
#Enhypen
,
2021 kpop news
,
2021 kpop news updates
,
best kpop news site
,
breaking news kpop
,
daily kpop news
,
ENHYPEN
,
ENHYPEN ALBUM RELEASE
,
enhypen border: hakanai
,
enhypen japanese album
,
Enhypen Jungwon
,
ENHYPEN members
,
ENHYPEN News
,
enhypen news 2021
,
enhypen_drunk-dazed
,
Enhypen_given-taken
,
ENHYPEN&Hi Season 2
,
Korean celeb news
,
KPOP
,
Kpop artist
,
kpop celebrity news
,
Kpop chart and news
,
Kpop current news
,
kpop daily news
,
kpop Enhypen
,
Kpop idols
,
Kpop latest news
,
Kpop news
,
Kpop news articles
,
Kpop news sites
,
kpop news update
,
Kpop recent news
,
Kpop trending
,
KPop trending news
,
KPOP2021
,
KPOPIDA
,
KPOPNEWS
,
the Enhanced Album'
,
Trending Kpop news
,
trending news