Kpop group ENHYPEN has released a new version of the music video for the new song 'Tamed-Dashed.'
ENHYPEN (JUNGWOON, HEESEUNG, JAY, JAKE, SUNGHOON, SUNOO, NIKI) released the music video of the title song 'Tamed-Dashed' (Seaside ver.) of the first full-length album 'DIMENSION: DILEMMA,' on their official social media channel at midnight on October 18.
The new music video shows the natural appearance of the members. They are singing and putting arms around each other's shoulders against the backdrop of the blue beach. The members raced on the sandy beach while playing rugby, and showed their passion at the school gym to convey pleasant energy. Notably, the appearance of those enjoying the waves gave off a refreshing and cool feeling, further raising the song's atmosphere.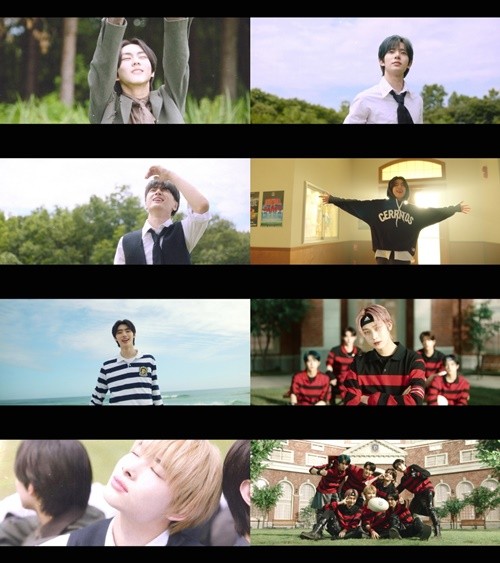 The new music video features a scene that connects to the official music video, raising questions. Members were all gathered at the school gym and members in the past dressed in different clothes. They repeatedly crossed the scene of playing on a wide lawn, adding to curiosity.
ENHYPEN surprised ENGENE (fandom) by releasing a new version of the music video. It will be their special gift to ENGENE around the world. Also, it topped the nation's major music chart Bugs with the title song 'Tamed-Dashed' and achieved 'Half Million Seller' based on the Hanteo chart on the day of its release.
Kpop group ENHYPEN also topped the iTunes Top Album chart in major music markets such as the US and Japan. In addition, it topped the Oricon Daily Album chart in Japan for two consecutive days, showing off the dignity of the 'fourth generation hot icon.'
Read More About: Tri.be Showed A Spicy Performance On SBS 'Inkigayo'
#Enhypen
,
best Kpop girl group
,
best kpop news site
,
best kpopstar
,
Border: Carnival
,
border: day one
,
Border: Hakanai
,
breaking news kpop
,
daily kpop news
,
DRUNK-DAZED
,
ENHYPEN
,
ENHYPEN ALBUM RELEASE
,
enhypen border: hakanai
,
enhypen japanese album
,
Enhypen Jungwon
,
ENHYPEN members
,
ENHYPEN News
,
enhypen news 2021
,
enhypen_drunk-dazed
,
Enhypen_given-taken
,
ENHYPEN&Hi Season 2
,
Fandom
,
Given-Taken
,
Korean celeb news
,
Korean singer
,
Korean singer songwriter
,
KPOP
,
Kpop album
,
Kpop beauty routine
,
Kpop boy group
,
kpop celebrity news
,
Kpop chart and news
,
Kpop colllaboration
,
KPOP comeback
,
Kpop current news
,
kpop daily news
,
kpop Enhypen
,
Kpop fashion
,
Kpop girls group
,
Kpop idols
,
Kpop issues
,
Kpop latest news
,
Kpop music chart
,
Kpop news
,
Kpop news articles
,
Kpop news sites
,
kpop news update
,
Kpop recent news
,
Kpop skin care routine
,
Kpop skincare routine
,
KPop trending news
,
KPOPNEWS
,
South Korean singer songwriter
,
the best kpop girl group
,
the best kpop girl group of 2021
,
the best kpop group of 2021
,
the top kpop group
,
top kpop boy group
,
top kpop girl group