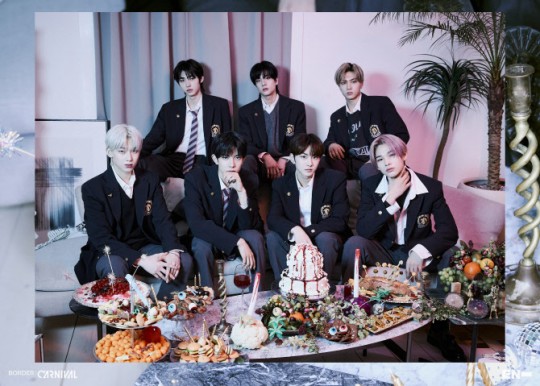 '4th generation hot icon' ENHYPEN shows off its popularity as a newcomer by dominating domestic and overseas music sources and record charts.
The second mini-album, 'BORDER: CARNIVAL' released by ENHYPEN on the 26th, ranked first in the Hanteo chart album daily ranking. They also ranked first in the Gaon chart daily retail album category on the day of its release. They remained at the top for two days. On the first day of release, 31,9073 copies were sold based on the Hanteo chart. The total sales volume until the 28th reached 360,000 copies.
'Border: Carnival' surpassed 450,000 copies in pre-order and on the first day of the album release. It continues to break its own record, surpassing the combined weekly sales of 28873 copies (based on Hanteo Chart). Expectations are already high about how the group will achieve high sales volume for Shinbo's weekly sales.
ENHYPEN, which swept through the domestic album charts, is also getting good results on the music charts. The title song 'Drunk-Dazed' is aiming for the top spot by recording 3rd place on the Genie Music real-time chart as of 1 am on the 28th and 6th on the Bugs real-time chart on the 27th. Also, Melon, the largest music source site in Korea, is raising a strong sensation in the music chart. Melon can be platform to measure one's popularity. ENHYPEN ranked 17th in 'Latest 24Hits' at 2 pm on the 27th.
Overseas charts targeting the world are already showing off the true value of the 'Global Fan-Made Group.' The new song 'Drunk-Dazed' entered 195th place in 'Global Top 200' on Spotify on the 26th and rose to 159th place on the 27th. By region, it ranked 51st in Korea, 48th in Malaysia, and 43rd in Russia. In addition, it is winning the top ranking, ranking 3rd on the Japan Line Music Daily 'Top 100' chart on the 28th.
This song also topped the iTunes 'Top Song' chart in 16 countries and regions, including Colombia, Indonesia, Peru, and Saudi Arabia, on the 28th. 'Border: Carnival' simultaneously topped the iTunes Top Album' chart in 27 countries and regions, including Austria, Brazil, Chile, Denmark, Turkey, and Japan. Also, they ranked 2nd in 4 countries and regions including France and the Netherlands. ENHYPEN debuted five months ago but already showing unbelievable momentum. ENHYPEN is indeed curating the K-pop market.
Read More About:
ENHYPEN Sold Over 370,000 Albums In 5 Days!
ENHYPEN, Special memories from their first fan meeting event
2021 kpop news
,
2021 kpop news updates
,
2021 kpop updates
,
DRUNK-DAZED
,
ENHYPEN
,
ENHYPEN News
,
KPOP
,
Kpop 2021
,
Kpop artist
,
Kpop artists
,
kpop Enhypen
,
Kpop news
,
Kpop trend
,
Kpop trending
,
KPop trending news
,
Kpop trending now
,
kpop trending update
,
KPOP2021
,
KPOPIDA
,
KPOPNEWS
,
Kpopstars
,
Trending
,
trending 2021
,
trending kpop
,
Trending Kpop news
,
trending kpop update
,
trending news
,
trending update kpop