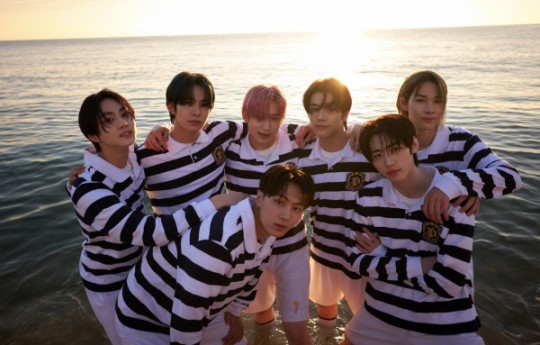 Kpop group ENHYPEN ranked 11th on the US Billboard 200 and 1st on the 'World Album' chart. ENHYPEN dominates US Billboard's latest chart with their new album 'DIMENSION: DILEMMA.'
They ranked at the top of seven charts in total.
According to the Billboard chart on October 27, ENHYPEN ranked 11th on the Billboard main album chart 'Billboard 200' with 'Dimension: Dilemma.'
It rose seven places higher from 18th place on the same chart with their mini-album 'Border: CARNIVAL' released in April.
Also, 'Dimension: Dilemma' ranked third and fourth on the 'Top Current Album Sales' and 'Top Album Sales' charts, respectively. It also ranked sixth on the 'Tastemaker Album' chart. On the 'World Album' chart, it reached the top for the second time after 'Border: Carnival.'
The album's title song, 'Tamed-Dashed,' ranked 20th on the 'World Digital Song Sales' chart. Then, Kpop group ENHYPEN ranked 12th on the 'Artist 100' chart, which comprehensively measures music and album sales, streaming, radio broadcasting scores, and social media activities.
Read More About: Youngwoong Lim Ranks 2nd On Korea's YouTube Music Most Viewed Artists
#Enhypen
,
best Kpop girl group
,
best kpop news site
,
best kpopstar
,
Border: Carnival
,
border: day one
,
Border: Hakanai
,
breaking news kpop
,
daily kpop news
,
DRUNK-DAZED
,
ENHYPEN
,
ENHYPEN ALBUM RELEASE
,
enhypen border: hakanai
,
enhypen japanese album
,
Enhypen Jungwon
,
ENHYPEN members
,
ENHYPEN News
,
enhypen news 2021
,
enhypen_drunk-dazed
,
Enhypen_given-taken
,
ENHYPEN&Hi Season 2
,
Fandom
,
Given-Taken
,
Korean celeb news
,
Korean singer
,
Korean singer songwriter
,
KPOP
,
Kpop album
,
Kpop beauty routine
,
Kpop boy group
,
kpop celebrity news
,
Kpop chart and news
,
Kpop colllaboration
,
KPOP comeback
,
Kpop current news
,
kpop daily news
,
kpop Enhypen
,
Kpop fashion
,
Kpop girls group
,
Kpop idols
,
Kpop issues
,
Kpop latest news
,
Kpop music chart
,
Kpop news
,
Kpop news articles
,
Kpop news sites
,
kpop news update
,
Kpop recent news
,
Kpop skin care routine
,
Kpop skincare routine
,
KPop trending news
,
KPOPNEWS
,
South Korean singer songwriter
,
the best kpop girl group
,
the best kpop girl group of 2021
,
the best kpop group of 2021
,
the top kpop group
,
top kpop boy group
,
top kpop girl group