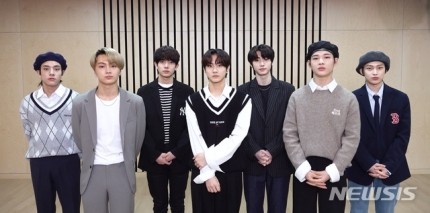 'ENHYPEN' will be the DJ on the Japanese radio program 'All Night Japan X'.
According to the agency Billif Lab on March 16th, ENHYPEN will be the DJ for the new program 'All Night Japan X.' It runs for about an hour from midnight to the late-night radio program 'All Night Japan'.
In the history of the 'All Night Japan' series, ENHYPEN is the first fixed host for an overseas artist. 'All-Night Japan X," which ENHYPEN appears as a DJ for the first time on the 29th. A production presentation held in Japan shared a video taken in advance. In the video, ENHYPEN said, "We just debuted in November of last year, and it's an honor to be in charge in a broadcast. We will work hard, carrying the good image of ENHYPEN. We will try to give the feeling that we always connect with the fans through the program."
Fans all around the world have been loving ENHYPEN along with their debut album 'BORDER: DAY ONE." Their debut album was released in November of last year. This album successfully entered the charts of Billboard's 'Hit Seekers', 'World Album' and 'Top Current Album Sales.' There's a total of 3 songs in the album, including their title song 'Given-Taken.' They also dominated the 'World Digital' and the 'Song Sales' chart.
ENHYPEN also topped the Japanese Oricon Daily Album Chart and iTunes 'Top Album' Chart in Japan. Their title song ranked No. 1 on the real-time 'Top 100' Chart of Line Music in Japan. 'Season's Greeting', released in January, made it to the top of the Oricon weekly DVD chart.