Season 2 of 'ENHYPEN&Hi,' reported by Jin-ah Son of Maekyung.com MK Sports, revealed the various charms of ENHYPEN.
Mnet's 'ENHYPEN&Hi' aired on the afternoon of March 24th, featured the second story of ENHYPEN's two days and one-night travel.
ENHYPEN performed numerous missions on the last episode. On the broadcast that day, they played a game to get a midnight snack. The members played various games, such as 'Grim Speed ​​Quiz' and 'Find Boiled Eggs' to get their midnight snack. They showed overflowing game desire and playfulness.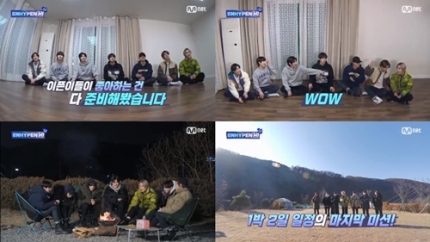 Also, there is a time to share their sincerity toward each other in front of the bonfire. After their debut, fans are curious about what ENHYPEN will say to each other. It includes anecdotes full of thoughtfulness and deep heart towards the members who could not confess due to their busy schedules.
'ENHYPEN&Hi' Season 2 revealed the real-life and honest appearance of ENHYPEN. The first broadcast gained explosive responses from their global fans. Season 2 of 'ENHYPEN&Hi' airs on Mnet every Wednesday at 7 PM. Also, the show will air on Japan's Abema official channel at the same time.
An hour later, you can see it on Big Hit label and Mnet K-POP's official YouTube channel. The stories that are not included in the broadcast can be checked through the contents released on the ENGENE (fandom) membership channel on Weverse. It is the global official fan community platform, releasing content every Wednesday and Friday.
Read More: Tomorrow by Together And ENHYPEN To Dominate The Stage 'K Contract 3'