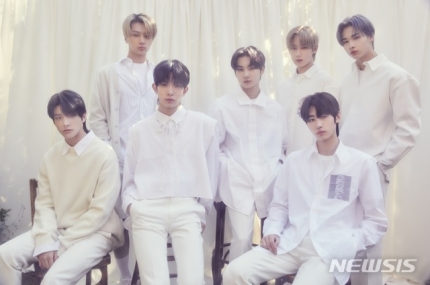 Five members of the 7-member Kpop group ENHYPEN tested positive for COVID-19 at once. On September 2nd, Belift Lab announced through the fan community Weverse, "ENHYPEN members Jungwon, Heeseung, Jay, Jake, and Sunghoon tested positive for COVID-19 during self-isolation."
According to Belift Lab, ENHYPEN preemptively went into self-isolation from August 26th. It is after the news of a filming site employee confirmed to have COVID-19.
After being classified as close contacts by the quarantine authorities, the members were sequentially confirmed positive from August 30th.
All confirmed members are taking the necessary measures. They are allocating them into treatment facilities and moving them following the guidelines of the quarantine authorities. Currently, their symptoms are mild.
Belift Lab explained, "The possibility of the infection spreading outside is low. All of the filming site personnel, including the artist, tests negative for the PCR test and are in self-quarantine."
The agency added, "We are sorry for causing concern to the fans because we could not prevent infection and spread despite many efforts. We will do our best to help the members recover their health quickly, considering health and safety as a priority."
Kpop group ENHYPEN was preparing for a comeback at the end of this month. However, due to the members' current situation, it will surely greatly impact their scheduled activities.
Read More About: BTOB Unveils Dance Practice Video For The Title Song 'OUTSIDER'
2021 kpop news
,
COVID positive
,
covid-19 issues
,
ENHYPEN
,
ENHYPEN ALBUM RELEASE
,
Enhypen Jungwon
,
ENHYPEN members
,
ENHYPEN News
,
enhypen news 2021
,
enhypen_drunk-dazed
,
Enhypen_given-taken
,
Korean celeb news
,
KPOP
,
Kpop 2021
,
Kpop artist
,
Kpop artists
,
kpop celebrity news
,
kpop covid-19 news
,
kpop Enhypen
,
Kpop idols
,
kpop issue updates
,
Kpop issues
,
Kpop news
,
Kpop recent news
,
Kpop trend
,
Kpop trending
,
KPop trending news
,
Kpop trending now
,
kpop trending update
,
KPOP2021
,
Kpopall
,
KPOPIDA
,
KPOPNEWS
,
recent kpop news
,
Trending
,
trending 2021
,
trending kpop
,
Trending Kpop news
,
trending kpop update
,
trending news
,
trending update kpop