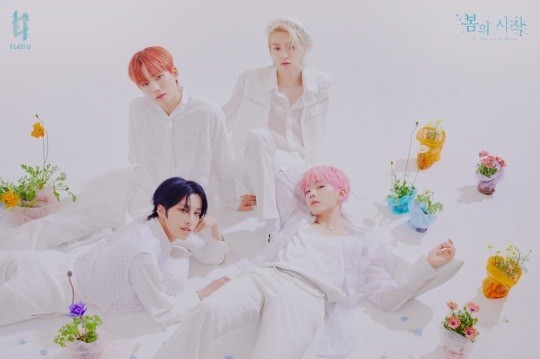 The first unit of the group E'LAST, 'E'LAST U,' will make a comeback with the charm of four people and four colors.
E'LAST U (Choi In, Seungyeop, Romin, Wonjun) will release their first single album, 'Remember,' through various online music sites at 6 pm on May 19th.
'Remember' is an album announcing the start of E'LAST's unit project, E'LAST U. They debuted in June last year with the title song 'Knight's Oath' from their first mini-album 'Day Dream.'
The title song, 'The Beginning of Spring,' is a song that depicts the season of new beginnings and the pain of past love. The arrangement based on the future bass and popular melodies are familiar. But, its three-quarters of beats create a unique and elegant atmosphere.
In the previously released 'The Beginning of Spring' music video teaser, the E'LAST U's members showed a powerful choreography with a refreshing atmosphere. It raised the fans' expectations by signaling a 'refreshing charisma.'
The four members, Choi In, Seungyeop, Romin, and Wonjun, who have different charms, will surely capture the hearts of fans with a new charisma that is different from other groups.
Particularly, E'LAST U will appear on MBC M 'Show! Champion' right after the release of their album. They will unveil their performance of 'The Beginning of Spring' for the first time. Also, they will appear on various music shows and be active on different activities.
As the first unit of E'LAST, fans are paying attention to what kind of new appearance they will show through 'Remember,' which is about to launch into the music industry.
Read More About: MONSTA X, The Standard Of Sophistication
2021 kpop
,
2021 kpop news
,
2021 kpop news updates
,
2021 kpop updates
,
2021 news kpop
,
2021 updates on kpop
,
E'LAST kpop
,
E'LAST U
,
E'LAST U comeback
,
E'LAST U kpop
,
E'LAST U news
,
E'LAST U remember
,
KPOP
,
Kpop 2021
,
Kpop artist
,
Kpop artists
,
Kpop idols
,
Kpop news
,
Kpop trend
,
Kpop trending
,
KPop trending news
,
Kpop trending now
,
kpop trending update
,
KPOP2021
,
Kpopall
,
KPOPIDA
,
KPOPNEWS
,
Kpopnews 2021
,
Trending
,
trending 2021
,
trending kpop
,
Trending Kpop news
,
trending kpop update
,
trending news
,
trending update kpop