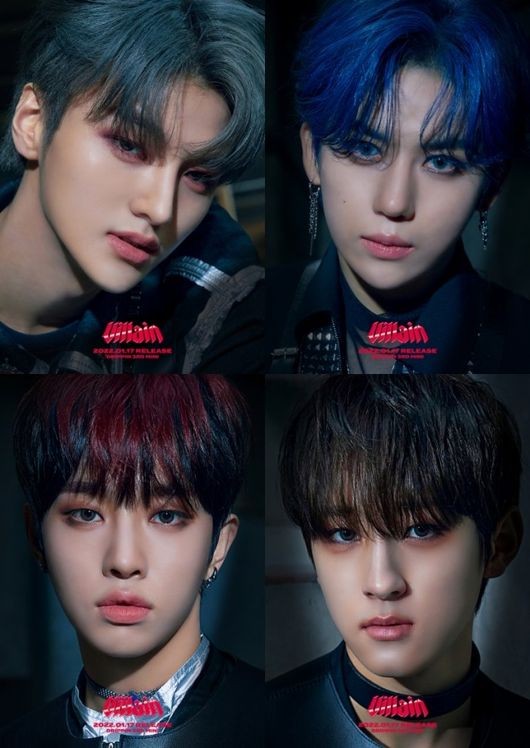 The Kpop group DRIPPIN has made a radical transformation. Woollim Entertainment released the first concept photo for DRIPPIN's third mini-album, 'Villain,' through their official social media channel at midnight on December 29. 
In the concept photo, Junho Cha, Yunseong Hwang, Lee Hyeop, and Minseo Kim radiated intense looks. They created a chic yet rebellious atmosphere, capturing the attention of fans.
Notably, the members who perfectly digested the thick makeup foreshadowed a different charm from the freshness they boasted with their first single 'Free Pass,'
So, it further amplified global fans' expectations for 'villain.' 
'Villain' is a new album that DRIPPIN will release seven months after 'Free Pass.'
DRIPPIN is once again on a global fanbase hunt with a 'villain' fully armed with a fatal charm that they have not shown has before. 
Kpop group DRIPPIN's third mini-album, 'Villain,' will be available on various music sites at 6 pm on January 17, 2022. 
Read More About: VICTON Confirms Comeback On Jan. 18 With The Release Of 3rd Single 'Chronograph
best Kpop girl group
,
best kpop news site
,
best kpopstar
,
boy group Drippin
,
breaking news kpop
,
daily kpop news
,
DRIPPIN
,
drippin comeback
,
drippin kpop news
,
Drippin members
,
drippin_free oass
,
drippin_free pass
,
Fandom
,
Free Pass
,
group Drippin
,
Korean celeb news
,
Korean singer
,
Korean singer songwriter
,
KPOP
,
Kpop album
,
Kpop beauty routine
,
Kpop boy group
,
kpop celebrity news
,
Kpop chart and news
,
Kpop colllaboration
,
KPOP comeback
,
Kpop current news
,
kpop daily news
,
kpop drippin
,
kpop drippin news
,
Kpop fashion
,
Kpop girls group
,
kpop group Drippin
,
Kpop idols
,
Kpop issues
,
Kpop latest news
,
Kpop music chart
,
Kpop news
,
Kpop news articles
,
Kpop news sites
,
kpop news update
,
Kpop recent news
,
Kpop skin care routine
,
Kpop skincare routine
,
KPop trending news
,
KPOPNEWS
,
South Korean singer songwriter
,
the best kpop girl group
,
the best kpop girl group of 2021
,
the best kpop group of 2021
,
the top kpop group
,
top kpop boy group
,
top kpop girl group