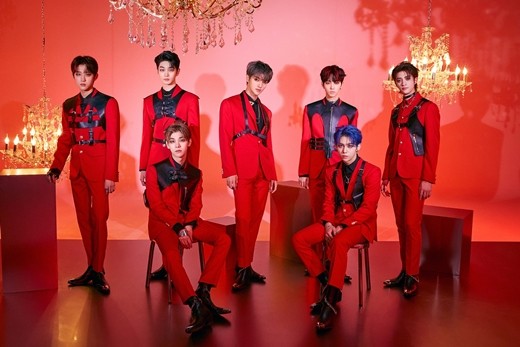 The intense transformation of the K-pop group DRIPPIN (Junho Cha, Yunseong Hwang, Dongyun, Lee Hyeop, Changuk Joo, Alex, Minseo Kim) completely captivated the hearts of global fans. The third mini-album, 'Villain,' released at 6 pm on January 17, ranked in the top 10 in nine countries and regions overseas on iTunes' top K-pop album chart as of 10 am on January 18.
'Villain' ranked first on iTunes in New Zealand and second in Taiwan and Indonesia. Then, it ranked fourth in Denmark and Brazil and fifth in the Philippines.
'Villain' is an album where you can feel DRIPPIN's seductive charm and powerful energy. They showed a refreshing and lovely appearance, along with a completed change and growth.
Notably, the unique 'Villain' concept opened the door to DRIPPIN's solid worldview, encompassing a total of six songs in the album, including the title song 'Villain.'
K-pop group DRIPPIN, who announced a successful comeback, will be active with 'villain.'
Read More About: DRIPPIN Has Returned With A Completely Different Image Through 'Villain'
best Kpop girl group
,
best kpop news site
,
best kpopstar
,
boy group Drippin
,
breaking news kpop
,
daily kpop news
,
DRIPPIN
,
Drippin members
,
Fandom
,
Free Pass
,
group Drippin
,
Korean celeb news
,
Korean singer
,
Korean singer songwriter
,
KPOP
,
Kpop album
,
Kpop beauty routine
,
Kpop boy group
,
kpop celebrity news
,
Kpop chart and news
,
Kpop colllaboration
,
KPOP comeback
,
Kpop current news
,
kpop daily news
,
Kpop fashion
,
Kpop girls group
,
kpop group Drippin
,
Kpop idols
,
Kpop issues
,
Kpop latest news
,
Kpop music chart
,
Kpop news
,
Kpop news articles
,
Kpop news sites
,
kpop news update
,
Kpop recent news
,
Kpop skin care routine
,
Kpop skincare routine
,
KPop trending news
,
KPOPNEWS
,
South Korean singer songwriter
,
the best kpop girl group
,
the best kpop girl group of 2021
,
the best kpop group of 2021
,
the top kpop group
,
top kpop boy group
,
top kpop girl group