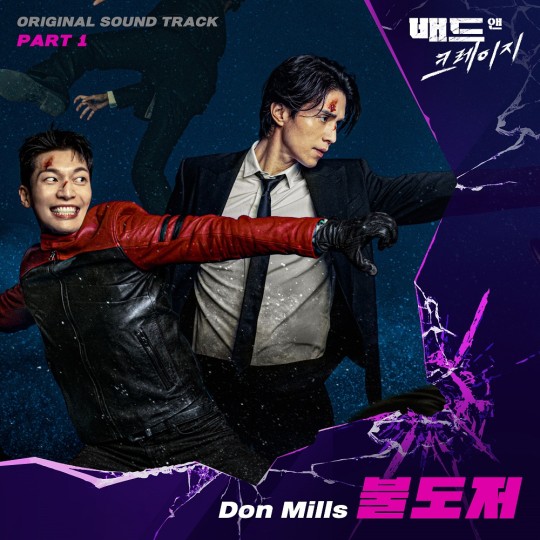 The talented Kpop rapper Don Mills, who showed impressive performance on Mnet's 'Show Me the Money 10,' sings the OST for tvN's new Friday-Saturday drama 'Bad and Crazy.'
Stone Music Entertainment is in charge of producing the OST for 'Bad and Crazy.'
Stone Music announced on December 24, "Don Mills will be first OST singer for 'Bad and Crazy,' which has been gaining popularity due to the high viewership and popularity from the first episode."
In fact, kpop rapper Don Mills debuted in 2013 with the digital single 'Don Mills' and has been active ever since. He released two full-length albums such as 'Meerae,' 'F.O.B,' and about 20 digital singles.
The OST Part 1 'Bulldozer,' sung by Don Mills, gained attention as it flowed out in the action scene of K (Hajoon Wi), the ending scene of the second episode of 'Bad and Crazy,' which aired on December 18.
'Bulldozer' is a new metal genre song featuring rough guitar riffs and dynamic rap. It will surely give a strong impression by combining the lyrics with the cool sound and the tone of the loud vocals rushing like a bulldozer.
'Bulldozer' will be out on major domestic music sites at 12 pm on December 25.
'Bad and Crazy' is a character recovery hero drama experienced by a competent but bad guy Sooyeol (Dongwook Lee), after meeting a righteous crazy man K. The drama starred Dongwook Lee, Hajoon Wi, Jieun Han, and Hakyeon Cha.
Read More About: Youngwoong Lim Stays On The Top Spot Of The Idol Chart Rating Rankings For 39 Consecutive Weeks
best Kpop girl group
,
best kpop news site
,
best kpopstar
,
breaking news kpop
,
daily kpop news
,
Don Mills
,
Don mills kpop
,
don mills OST
,
Fandom
,
Korean celeb news
,
Korean singer
,
Korean singer songwriter
,
KPOP
,
Kpop album
,
Kpop beauty routine
,
Kpop boy group
,
kpop celebrity news
,
Kpop chart and news
,
Kpop colllaboration
,
KPOP comeback
,
Kpop current news
,
kpop daily news
,
kpop don milld
,
Kpop fashion
,
Kpop girls group
,
Kpop idols
,
Kpop issues
,
Kpop latest news
,
Kpop music chart
,
Kpop news
,
Kpop news articles
,
Kpop news sites
,
kpop news update
,
kpop rapper don mills
,
Kpop recent news
,
Kpop skin care routine
,
Kpop skincare routine
,
KPop trending news
,
KPOPNEWS
,
Mnet
,
Mnet program
,
MNET SHOW
,
Mnet TMI News
,
rapper don mills
,
South Korean singer songwriter
,
the best kpop girl group
,
the best kpop girl group of 2021
,
the best kpop group of 2021
,
the top kpop group
,
TMI NEWS
,
top kpop boy group
,
top kpop girl group