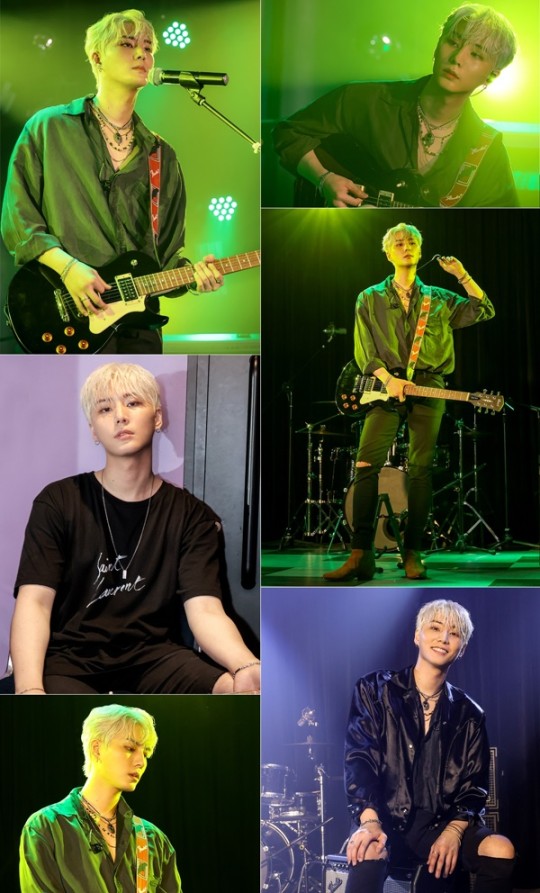 Kpop band DAY6 member Young K demonstrates infinite charm through his solo debut song 'Guard You (I'll Hold You Until the End).'
DAY6 Young K debuted as a solo artist with his 1st mini-album, 'Eternal,' and the title song 'Guard You' at 6 pm on September 6th. He performed on Mnet 'M Countdown' on September 9th, KBS2 'Music Bank' on September 10th, MBC 'Show! Music Core' on September 11th, and SBS' 'Inkigayo' on September 12th. He exudes the intense charisma of a rock star on stage.
He captivated the music fans with his firm voice and showed explosive energy in the dramatic chorus section. Particularly, his stage manners and emotional expression that go well with the new song 'Guard You' caught the viewers' attention. Domestic and foreign fans responded enthusiastically to his wider musical spectrum. Also, he showed his powerful singing ability that Young K once again proved as a vocalist.
Thanks to fans' support, JYP Entertainment released a behind-the-scenes cut of Young K's first solo mini-album 'Eternal' jacket shooting. Through the concept photo of the new album, Young K expressed 'a musician's A to Z' from his artistic side on stage to the comfortable and natural look of the waiting room. His behind-the-scenes photos are full of his colorful charms. He showed a professional appearance by taking off the in-ears or concentrating on playing while also showing a boyfriend-like charm full of excitement with a bright smile.
On September 9th, he released the off-the-record video content titled, 'Young K 1st Mini Album 'Eternal' Interlude | 01.'
It showed his charm as an artist and as his unique self. Before his solo debut, he was busy with ensemble practice, music video shooting meetings, and radio DJing.'
Young K said, "When I watch cartoons, I feel very empty when it's completed. I know I needed a break, but I felt like I didn't want it to be completed. I thought it would be similar when my fans saw me, so I decided to continue," he said, explaining why he released his solo album while working on a busy schedule.
DAY6 member Young K continued, "Music is now a part of my life. I like to sing, I enjoy being on stage, I want my fans to be happy, and I want to make them happy. I think the best thing I can do is music. If the world ends in an hour or a day, I think I will probably sing to the end."
Read More About: Sunmi Exudes Her Sophistication Even In Her Everyday Look!
2021 kpop news
,
2021 kpop updates
,
daily kpop news
,
daily kpop update
,
Day6
,
day6 (even of day)
,
day6 Jae
,
Day6 Jae Park
,
day6 kpop
,
DAY6 kpop news
,
DAY6 members
,
DAY6 new album
,
DAY6 news
,
day6 right through me
,
day6 sub-unit
,
DAY6 unit
,
DAY6 updates
,
Korean celeb news
,
KPOP
,
Kpop 2021
,
Kpop artist
,
Kpop artists
,
kpop celebrity news
,
Kpop daily
,
kpop daily news
,
Kpop idols
,
Kpop latest news
,
kpop latest updates
,
Kpop news
,
kpop news daily
,
Kpop trend
,
Kpop trending
,
KPop trending news
,
Kpop trending now
,
kpop trending update
,
kpop young k
,
KPOP2021
,
Kpopall
,
Kpopdaily
,
KPOPIDA
,
KPOPNEWS
,
KPOPTODAY
,
latest kpop news
,
latest kpop updates
,
Trending
,
trending 2021
,
trending kpop
,
Trending Kpop news
,
trending kpop update
,
trending news
,
trending update kpop
,
YOUNG K
,
Young K Solo Album