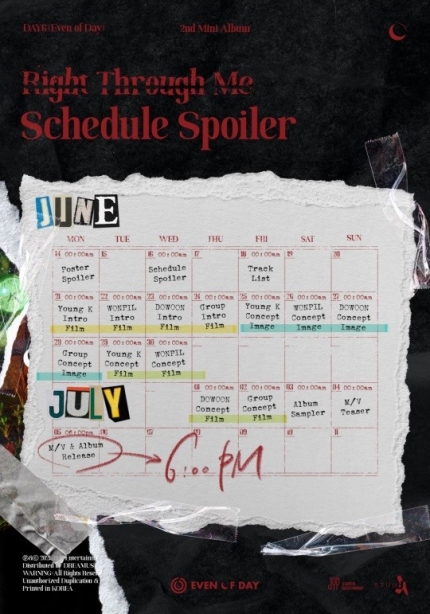 DAY6 (Even of Day) raises expectations for their comeback. They released colorful teaser contents of their new album 'Right Through Me.'
DAY6's first unit, DAY6 (Even of Day), consists of 3 members: Young K, Wonpil, and Dowoon. They will release their second mini-album, 'Right Through Me' on July 5th. Before this, JYP Entertainment posted a schedule spoiler image on various social media channels on June 16. It contains the new teaser plan. So, it delivered the good news to the fans who have been eagerly waiting for the unit's comeback.
DAY6 (Even of Day) will release tracklists on June 18, intro films from June 21 to 24, and concept images from June 25 to 28. Besides, they will release concept films from June 29 to July 2, album samplers on July 3, and music video teasers on July 4.
In fact, the intro film is the first teaser content presented by a three-member unit. It includes DAY6 activities, raising fans' curiosity about how it will unfold.
In addition, the design of phrases passes through the name of the album in red letters. The rough edges taped with torn calendar paper led to speculation and interpretation of the album.
DAY6 (Even of Day) released their first mini-album, 'The Book of Us: Gluon – Nothing Can Tear Us Apart' on August 31, 2020. With this, they brightened their reputation as 'Trust and Hear (Day6 who believes and listens).' Their debut album, in which they participated in writing and composing all songs, took first place on the daily album chart of Hanteo Chart and the daily retail album of Gaon Chart. Also, it topped iTunes album charts in Hong Kong, Malaysia, and Singapore. It only proves their strong musicality.
DAY6 (Even Of Day) will release 'Right Through Me,' with their new music color, on July 5 at 6 PM.
Read More About: Tomorrow x Together, #5 On 'Billboard 200' & #1 On 3 Charts
2021 kpop
,
2021 kpop news
,
2021 kpop news updates
,
2021 kpop updates
,
2021 news kpop
,
2021 updates on kpop
,
Day6
,
day6 (even of day)
,
day6 kpop
,
DAY6 new album
,
DAY6 news
,
day6 right through me
,
day6 sub-unit
,
KPOP
,
Kpop 2021
,
Kpop artist
,
Kpop artists
,
kpop day6
,
Kpop idols
,
Kpop news
,
Kpop trend
,
Kpop trending
,
KPop trending news
,
Kpop trending now
,
kpop trending update
,
KPOP2021
,
Kpopall
,
KPOPIDA
,
KPOPNEWS
,
Kpopnews 2021
,
Kpopnews2021
,
Trending
,
trending 2021
,
trending kpop
,
Trending Kpop news
,
trending kpop update
,
trending news
,
trending update kpop