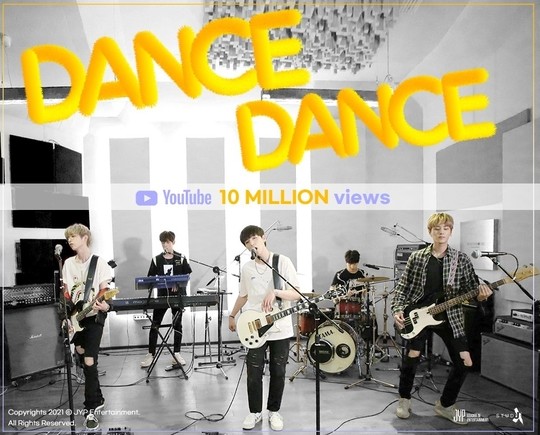 The music video for 'DANCE DANCE' of the Kpop band DAY6 (Sungjin, Jae, Young K, Wonpil, and Dowoon) has surpassed 10 million views.
DAY6's 'DANCE DANCE' music video on the official YouTube channel of JYP Entertainment reached 10 million views on the afternoon of October 13, 2021. So, the agency released a commemorative celebration video through DAY6's official social media.
'DANCE DANCE' is a song released on May 8, 2017. It is a part of DAY6's project 'Every DAY6,' which releases new songs every month during 2017. Member Young K sang alone and composed with members Jae, Sungjin, Wonpil, Dowoon. Then, composers Jisang Hong and Woomin Lee enhanced the completeness of the song.
'DANCE DANCE' is a rock song with a strong and sweet chord composition and a fast BPM. As of today, it contains a pleasant story of let's play without thinking.
Debuted in September 2015, DAY6 won the hot love of music fans in Korea and abroad. They released hit songs such as 'Congratulations,' 'You Were Beautiful,' 'I Loved You,' 'I Like You,' and 'Days Gone By.'
Notably, starting with 'Sweet Chaos,' 'Zombie,' and 'You Make Me,' released in 2019, have topped major domestic and international music charts.
After hosting two large-scale world tours with outstanding live performances and instrumental skills, Kpop band DAY6 grew into a 'K-pop representative band' and won the 2020 Mnet Asian Music Awards 'Best Band Performance Award.'
Read More About: BLACKPINK Lisa Surpassed 63 Million Instagram Followers
best Kpop girl group
,
best kpop news site
,
best kpopstar
,
breaking news kpop
,
daily kpop news
,
Day6
,
day6 (even of day)
,
day6 dowoon
,
day6 Jae
,
Day6 Jae Park
,
day6 kpop
,
DAY6 kpop news
,
DAY6 members
,
DAY6 new album
,
DAY6 news
,
day6 right through me
,
day6 sub-unit
,
DAY6 unit
,
DAY6 updates
,
DOWOON
,
Even Of Day
,
Fandom
,
Hip-hop Idol JIN
,
Jin
,
JIN news
,
Korean celeb news
,
Korean singer
,
Korean singer songwriter
,
KPOP
,
Kpop album
,
Kpop beauty routine
,
Kpop boy group
,
kpop celebrity news
,
Kpop chart and news
,
Kpop colllaboration
,
KPOP comeback
,
Kpop current news
,
kpop daily news
,
kpop day6
,
Kpop fashion
,
Kpop girls group
,
kpop idol JIN
,
Kpop idols
,
Kpop issues
,
Kpop latest news
,
Kpop music chart
,
Kpop news
,
Kpop news articles
,
Kpop news sites
,
kpop news update
,
Kpop recent news
,
Kpop skin care routine
,
Kpop skincare routine
,
KPop trending news
,
KPOPNEWS
,
Mnet
,
Mnet program
,
MNET SHOW
,
Mnet TMI News
,
Right Through Me
,
Singer JIN
,
South Korean singer songwriter
,
the best kpop girl group
,
the best kpop girl group of 2021
,
the best kpop group of 2021
,
the top kpop group
,
TMI NEWS
,
top kpop boy group
,
top kpop girl group
,
WONPIL
,
YOUNG K