Daniel Kang took first place in the third week of April in 'Show Champion.'
In MBC Every1's 'Show Champion,' which aired on the 21st, a fierce war between talented artists unfolded.
Day No. 1 candidate TOP5 include SHINee's 'Atlantis,' Daniel Kang's 'Antidote,' IU's 'Lilac', Davichi's 'Just hug Me,' and Astro's 'ONE.' Daniel Kang's 'Antidote' took first place.
Daniel Kang said, "I'm so grateful for another great award, Danity (fandom). I'm working hard now on the album 'Yellow.' I'm grateful for running with me until the end of the Color series, and I'll show you a lot of good albums and good songs. So, please look forward to it. I hope you are always healthy."
Daniel Kang made a comeback with the title song 'Antidote.' He showed sharpened vocals and performances through a stage that expressed his desire to escape from extreme pain.
Heejae Kim officially debuted with the new song 'Follow me.' Heejae Kim revealed the intense and fatal charm of trot idols through the stage of the new disco-style song, 'Follow me' produced by Young Tak.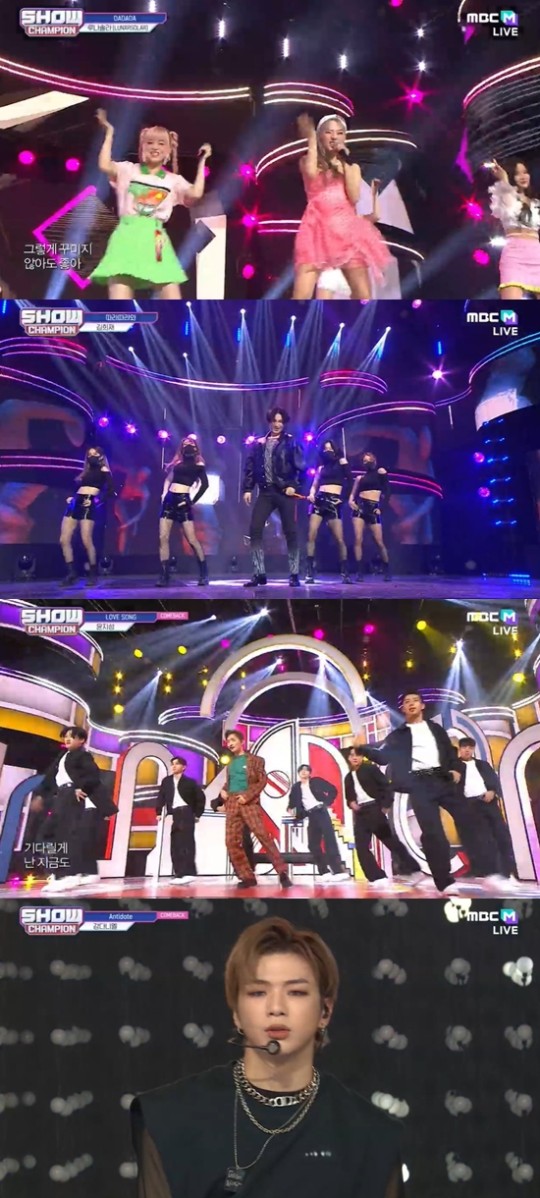 BAE173 showed off the charm of sword group dance and eight colors through their performance of the title song, 'I Loved You.' While LunarSolar boasted a freshness like vitamins through the performance of 'DADADA.'
Next, ASTRO showed a powerful performance that allows you to feel refreshing and sexy through the title song, 'ONE.'
Jisung Yoon showed off his first dance song since his solo debut. Jisung Yoon showed off his soft and sweet voice. He showed his own sensibility through the performance of the title song, 'LOVE SONG.'
In addition, 'Show Champion' on this day includes BAE173, OnlyOneOf, STAYC, DONGKIZ, 3YE, DKB, T1419, LUNARSOLAR, Yukika, D-CRUNCH, Jiwoong Baek, NTX, Checkmate, Insun Hwang appeared.
Read More About:
Daniel Kang Will Take A COVID-19 Examination
Daniel Kang 'Yellow,' Ranked 1st On Gaon's April Music Chart
2021 kpop updates
,
Daniel
,
Daniel Kang
,
Daniel_Kang
,
Kang Daniel
,
kang daniel news
,
KPOP
,
Kpop artist
,
Kpop artists
,
Kpop KangDaniel
,
Kpop news
,
KPop trending news
,
KPOP2021
,
Kpopall
,
KPOPIDA
,
KPOPNEWS
,
MBC Show Champion
,
Show Campaign
,
Trending
,
trending 2021
,
trending kpop
,
Trending Kpop news
,
trending kpop update
,
trending news
,
trending update kpop
,
trending updte