Daniel Kang, Wanna One's center, created through Mnet's 'Produce 101 Season 2,' is now growing as a solo artist. He expressed his sincerity to his heart's content. Through an informal interview, he shared a story that's not easy to bring up about the fandom 'Danity' who supports him and his detractors who attack him.
Daniel Kang released his 3rd mini-album, 'YELLOW,' on the 13th of April and finished the 'COLOR' series. The title song 'Antidote' showed Daniel Kang's musical spirit. Also, his performance showed off his dark charm to his heart's content, showing that he has grown even more in terms of performance.
However, Daniel Kang is contemplating what to do next for his fans, rather than being carried away. Daniel Kang, who takes music seriously than anyone else, revealed his inner thoughts on the YouTube channel, 'Wiper: Neatly Skimming Issues.' Fans can watch it at 6 pm on May 13th.
Singer Daniel Kang Informal Interview Video 1 ▶ https://youtu.be/ga37Kdrd3MI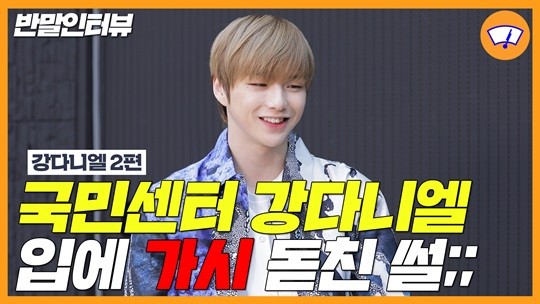 Singer Daniel Kang Informal Interview Video 2 ▶ https://youtu.be/kyCzYauSCZo
On this day, Daniel Kang said, "It's cool. But, I have a lot of worries." This is his response when asked about his impressions of completing the activities of his 3rd mini-album, 'YELLOW.'
Daniel Kang said, "The 'COLOR' series was a project with an album linking to it. In the case of this series, it's connected to the next album, so you don't have to think about anything ingenious. But the only downside is that the series is over, so I have to think about the next one. However, my body is still overheated as I released many albums in a short period of time. So, let us take some time to review and think about the musical information that we have gathered while cooling these things down."
In addition, Daniel Kang expressed his gratitude for the fans who supported him in this album. He regretted that he could not meet them in person due to the Covid-19 crisis.
"Who listens to music on CDs these days. There are not many people like that. Still, I know that buying my album itself is the best gift I can give to a fan and a singer."
In this regard, Daniel Kang said about being unable to be with fans due to Covid-19, "I am a performance-type singer. I am a person who shows the performance, appearance, and sound parts in harmony. However, even if I show my performance, I don't feel anything because no fans are shouting. I think I'm doing well more and more."
Daniel Kang participated in the lyrics of all songs for this album, further enhancing his contribution. He said, "I started with rap, so it wasn't difficult to write lyrics. I wasn't ashamed to show my story to others. I'm not a person who committed a big incident. I'm a person who lives the same, and I wrote the stories as a big young man in his 20s."
When asked about his intentions to write songs, Daniel Kang said, "I heard that I have a talent for composing, but I refused right away. It's good to tell my story, and it's good to hear the sound that I am making. But, there are many geniuses in the world. There are times when I collaborate with such geniuses, and even such geniuses don't think about it. There is a kind of comradeship that I feel at that time. It was good to feel that way. No singer in this world can stand on the stage alone. I want to grow together as a team. In other words, it made me feel more mature as an artist."
Finally, Daniel Kang delivered a message of gratitude to his fandom, Danity, once again.
"Honestly, I've been sitting still, and I've been attacked a lot. And I have been in a position where I had no choice but to stay put. Fans are the ones who supported me in those situations. So, I really wanted to play good music for my fans through this series," he said, reaffirming his passion for his fandom.
Read More About: Everglow 'Last Melody' Group Concept Photo Released
2021 kpop updates
,
Daniel
,
Daniel Kang
,
daniel kang news
,
daniel kang yellow
,
Daniel_Kang
,
Kang Daniel
,
kang daniel news
,
KPOP
,
Kpop 2021
,
Kpop artist
,
Kpop artists
,
kpop daniel kang
,
Kpop idols
,
Kpop KangDaniel
,
Kpop news
,
Kpop trend
,
Kpop trending
,
KPop trending news
,
Kpop trending now
,
KPOP2021
,
KPOPIDA
,
KPOPNEWS
,
Trending
,
trending 2021
,
trending kpop
,
Trending Kpop news
,
trending kpop update
,
trending news
,
trending update kpop