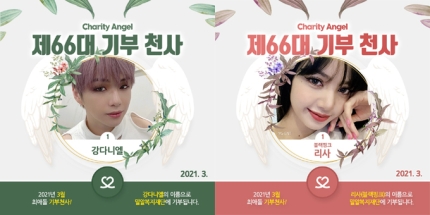 Daniel Kang and Blackpink Lisa were selected as the 66th donation angels. Some donations came in listed with their name.
On the 11th of March, the idol ranking service 'Choeaedol' revealed that Daniel Kang received 2981 points out of 3,000 points. It makes him rank first in the cumulative ranking in the male individual category, becoming a donation angel. This is a record for 19 consecutive months. Daniel Kang has donated a total of 67 times, with 36 donation angels and 31 donation fairies. The cumulative donation amount is 33.5 million won.
In the women's individual category, Lisa of Blackpink maintained first place in the cumulative ranking. This is a record for eight consecutive months, making her a donation angel. She scored 2974 out of 3000 points. Lisa has donated 6.5 million won 13 times, achieving 8 donation angels and 5 donation fairies so far.
Choeaedol conducted 100% fan votes from the 9th of last month to the 10th of this month.
'Choeaedol' is selected as a donation angel if it achieves first place in the overall cumulative ranking. And, a donation fairy if it achieves 55,55,5555 votes or more on an anniversary. Therefore, Daniel Kang and Lisa became donor angels. They donated a total of 1 million won each to 500,000 won each in their own name to the 'Millal Welfare Foundation'. Both of their donations accumulated a total of 210 million won so far.
In addition, 'Choeaedol' is running a 'subway CM board advertisement.' This is for idols who have become donor angels since January this year. People can see the advertisements of Daniel Kang and Lisa at the Express Bus Terminal station from the 30th.
Read More About: Blackpink Lisa As The New Face Of MAC