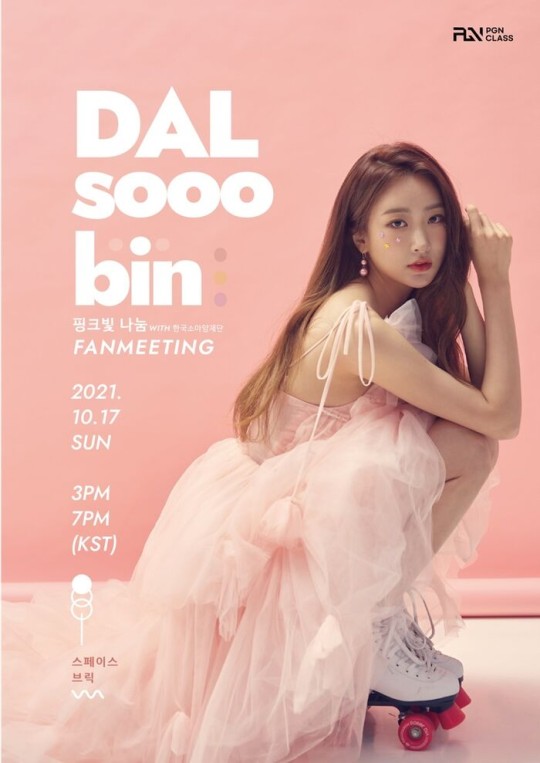 Kpop group Dal Shabet member Subin (aka Dalsooobin) will host a fan meeting with the Korea Children's Cancer Foundation on October 17th.
On August 31st, the organizer PGN Class and Subin's agency Image9Coms said, "Subin will be hosting the show 'Dal Sooobin's Fanmeeting' with the Children's Cancer Foundation at the Nine Brick in Mapo-gu, Seoul on October 17th at 3 pm and 7 pm."
In addition to the fan meeting, Subin is conducting public interest campaigns. It includes donations for children with cancer at the same time.
At this fan meeting event for children with cancer, Subin will communicate with fans through talks, performances, and various appearances. 'Dal Sooobin's Fan Meeting' will take online and offline, and will air live online. The offline event complies with the COVID-19 government quarantine rules, and only 50 people per session can attend.
Subin debuted as a member of the Kpop group Dal Shabet in 2011. She was recognized musically enough to write lyrics, compose, and produce songs in the group. She started her solo career in 2016 and released a total of seven self-composed singles.
In addition, Subin has expanded her field of activity as an actress and appeared in dramas such as 'Suspicious Mother-in-law' and 'Wish You.'
Also, she is performing prominently in entertainment such as MBN's 'Miss Back,' 'Nayana,' and 'Jukebox 2.'
Read More About: ICHILLIN Released A Vocal Cover Of Spice Girls 'Wannabe'
dal shabet
,
dal shabet disband
,
Dal Shabet members
,
dal shabet news
,
Dal Shabet Subin
,
Dal Shabet Subin kpop
,
Dal Shabet Subin news
,
KPOP
,
Kpop artist
,
Kpop artists
,
kpop dal shabet
,
Kpop news
,
Kpop recent news
,
Kpop trend
,
Kpop trending
,
KPop trending news
,
Kpop trending now
,
kpop trending update
,
KPOP2021
,
KPOPIDA
,
KPOPNEWS
,
recent kpop news
,
trending 2021
,
trending kpop
,
Trending Kpop news
,
trending kpop update
,
trending news
,
trending update kpop