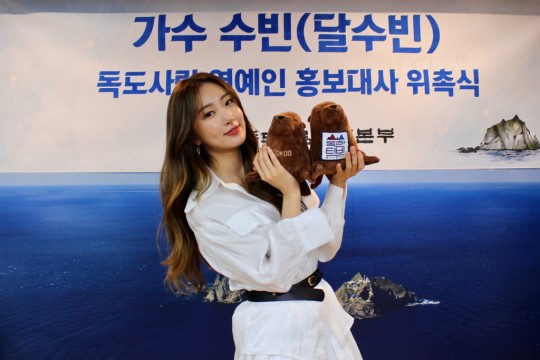 Singer and actress Subin, a former member of the girl group Dal Shabet, has been appointed as an ambassador for Dokdo.
On July 29th, the Love For Dokdo Movement Headquarters (President Yongseok Won) appointed Subin as a public relations ambassador for Dokdo Love Celebrities.
Subin plans to promote the beauty and value of Dokdo to the world by visiting Dokdo, participating in a Korean TV panel, and various ceremonies and cultural performances. It starts with the Dokdo song 'Please Take Good Care Of Dokdo Island' project, to launch in August.
Subin made her debut as a member of Dal Shabet in 2011. They received attention as 'the first girl group to produce' from the time of their group activities. In 2016, Subin started her solo career.
Subin showed her musical ability as a singer-songwriter by making a name for herself on the Billboard chart through solo activities. Subsequently, she expanded her activities as an actress through dramas such as 'Suspicious Mother-in-law' and Netflix's 'Wish You.'
Subin said, "It is an honor to be able to participate in the promotion of Dokdo, which took my interest. I plan to work hard so that I can communicate various aspects and stories of Dokdo with the public. So, please keep an eye on it."
Director Jungcheol Jo said, "Subin's participation will be a great help in popularizing Dokdo's cultural contents. She will also participate in the Dokdo Song Project, which will soon launch on Liberation Day. This will be a great help to the perfection of Dokdo Song."
Read More About: SM Entertainment Producer Youngjin Yoo, US Billboard 'The 21st Century's Most Outstanding Producer'
2021 kpop
,
2021 kpop news
,
2021 kpop news updates
,
2021 kpop updates
,
2021 news kpop
,
2021 updates on kpop
,
dal shabet
,
dal shabet disband
,
Dal Shabet members
,
dal shabet news
,
Dal Shabet Subin
,
Dal Shabet Subin kpop
,
Dal Shabet Subin news
,
dokdo
,
dokdo love celebrities
,
KPOP
,
Kpop artist
,
Kpop artists
,
kpop dal shabet
,
Kpop news
,
Kpop trending
,
KPop trending news
,
Kpop trending now
,
KPOP2021
,
KPOPIDA
,
KPOPNEWS
,
subin
,
Subin Dokdo Ambassador
,
Trending
,
trending 2021
,
trending kpop
,
Trending Kpop news
,
trending kpop update
,
trending news
,
trending update kpop