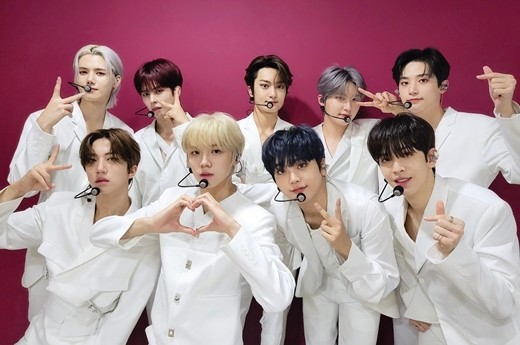 The Kpop group CRAVITY stepped on their first full album title song, 'Gas Pedal' in 2021 and sprinted all the way globally.
CRAVITY debuted in April last year and boasted remarkable growth this year. Following the third mini-album, 'CRAVITY SEASON 3 HIDEOUT: BE OUR VOICE,' they released their first full-length album, 'The Awakening: Written In The Stars,' proving their potential.
As CRAVITY has met global fans with steady album releases, its unique conceptual performance also stood out. The activities of 'My Turn,' 'Bad Habits,' 'Gas Pedal,' and 'VENI VIDI VICI' filled the stage with charisma, chicness, and sexiness. So, it made fans impossible to take their eyes off the stage due to CRVAITY's more powerful choreography.
CRAVITY has taken a global step despite the pandemic caused by COVID-19. They appeared on FOX5's 'Good Day New York' in the US and conducted video interviews. Also, they decorated the TIDAL magazine in the US. In addition, various foreign media such as Forbes, magazine PopWrapped, and MTV highlighted the potential of the Kpop group CRAVITY.
Just as leading domestic and foreign media shed light on their growth potential, the results continued with achievements. CRAVITY set its new record of selling more than 100,000 copies of their first full-length album. Also, they made it to the top 10 iTunes charts in many countries worldwide. They won the 'Hottest' award at the 2021 The Fact Music Awards, a Korean awards ceremony.
The first face-to-face meeting with LUVITY (fandom), which CRAVITY wanted the most, was also held. CRAVITY greeted fans from 126 countries worldwide through an online fan meeting, 'CRAVITY COLLECTION: C-DELIVERY,' in November.
In addition, they did not stop releasing various contents and were also responsible for communicating with global fans. Their own entertainment content, 'CRAVITY PARK' marks its fourth season. So, they are already attracting attention as a group worthy of its unique talk and joy suitable as the 'next-generation entertainment idol.'
In addition, they are meeting fans with planned content that gives a glimpse of each member's charm, such as 'C-Real,' 'C-Record,' and 'C-Plus+.'
Read More About: Youngwoong Lim Topped The 52nd Week Of Gaon Social Chart 2.0
best Kpop girl group
,
best kpop news site
,
best kpopstar
,
breaking news kpop
,
Cravity
,
cravity members
,
CRAVITY news
,
daily kpop news
,
Fandom
,
Korean celeb news
,
Korean singer
,
Korean singer songwriter
,
KPOP
,
Kpop album
,
Kpop beauty routine
,
Kpop boy group
,
kpop celebrity news
,
Kpop chart and news
,
Kpop colllaboration
,
KPOP comeback
,
kpop cravity
,
Kpop current news
,
kpop daily news
,
Kpop fashion
,
Kpop girls group
,
kpop group cravity
,
Kpop idols
,
Kpop issues
,
Kpop latest news
,
Kpop music chart
,
Kpop news
,
Kpop news articles
,
Kpop news sites
,
kpop news update
,
Kpop recent news
,
Kpop skin care routine
,
Kpop skincare routine
,
KPop trending news
,
KPOPNEWS
,
South Korean singer songwriter
,
The Awakening
,
the best kpop girl group
,
the best kpop girl group of 2021
,
the best kpop group of 2021
,
the top kpop group
,
top kpop boy group
,
top kpop girl group