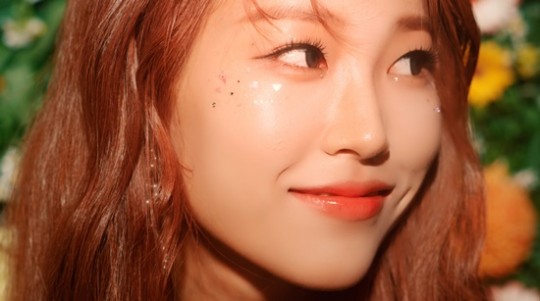 The music video teaser for the title track 'Wow' of COOING's first Extended Play (EP) album, 'Baby Flower' was released.
Ahead of her comeback on June 17th, COOING raised expectations for her comeback by sequentially releasing the concept photos of her first EP album, 'Baby Flower.' Also, her agency Star It Entertainment presented a music video teaser for the first EP title song, 'Wow' on its official channel.
The released music video teaser begins with COOING's face hidden in the darkness slowly appearing along with her voice saying, "Wow! Ah, Ah, Ah." Then, COOING appears in a yellow dress, which catches the eye of the viewers. In the video, she exudes various charms with a more sophisticated appearance.
The colorful elements on the screen and the appearance of COOING are in perfect harmony with her voice. It is impossible to take your eyes off from her. So, it really captivates the eyes and ears of fans. And, it is raising expectations for the title song as well as curiosity about the main story.
'Baby Flower' is the first story in the 'Fairy Tale Series, in which COOING takes the lead and unravels everything she sees through her eyes in five stories. This album shows the new side of COOING, who has grown a step further as an artist. Also, it shows an unfinished young flower, a beginning love, and an unspeakable confession.
The title track 'Wow' is a song that tactfully expresses a fight with a fresh and playful lover with an exclamation of 'Wow!!!' Through this song, COOING's unique sound texture stands out. The lively, cheerful sound that crossover hip-hop beats to Lofi jazz will bring a new thrill to the sweltering summer.
COOING will release her first EP 'Baby Flower' on various online music sites at 12:00 noon on June 17th.
Read More About: Hayoung Oh Included In 'Starting Point Of Dating' OST Lineup
2021 kpop
,
2021 kpop girl idols
,
2021 kpop news
,
2021 kpop news updates
,
2021 kpop updates
,
2021 news kpop
,
2021 updates on kpop
,
cooing
,
cooing kpop
,
KPOP
,
Kpop 2021
,
Kpop artist
,
Kpop artists
,
KPOP comeback
,
kpop cooing
,
kpop COOL updates
,
Kpop idols
,
Kpop news
,
Kpop trend
,
Kpop trending
,
KPop trending news
,
Kpop trending now
,
kpop trending update
,
KPOP2021
,
Kpopall
,
KPOPIDA
,
KPOPNEWS
,
singer cooing
,
Trending
,
trending 2021
,
trending kpop
,
Trending Kpop news
,
trending kpop update
,
trending news
,
trending update kpop