Naeun, Sujin, and Hyun-Jin are facing school violence issues and advertising companies are removing all content that contains the idols.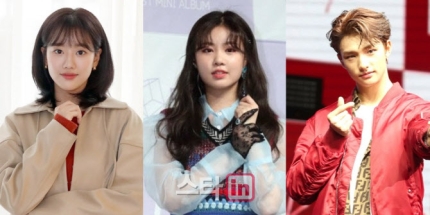 There are several idols at the center of controversy, due to school violence or harassment. Advertisements are being discontinued and deleted where they include the idols involved. The resulting damage to the advertising industry is quite large. There might be a series of lawsuits for damages against the agencies in the future.
The public has been loving April's member Naeun because of her innocent image. In fact, she received a lot of offers from the advertising industry. Currently, Naeun has been modeling for a total of seven brands. Naeun has consistently made brand advertisements a success. As a result, she became famous and known as the 'Advertising Brand girl'.
However, Naeun is now on suspicion of bullying. The bullying issue was from April's former member Lee Hyun-Joo. The suspicion of abuse has reduced her popularity. Many advertising companies are starting to decline her. Also, the brands' she is modelling for are starting to avoid Naeun.
Dongseo Food Post, JSTina, Samjin Pharmaceutical Geborin, and Genie Kim, are the brands where Naeun appears. These brands turned private all their social media advertising contents on YouTube, Facebook, and Instagram.
Previously, Naeun was a former model of the cosmetic brand Peripera. Now, its current model is G-Idle's Sujin. Both of these girl idols have a suspicion of bullying. Peripera took action right away and removed all of Sujin and Naeun's advertising content on social media. In addition, Peripera even unfollowed both girl idols on Instagram and deleted all related photos.
The cosmetic brand Clio also deleted all related contents about Stray Kids' Hyun-Jin. He is also involved in school violence issue. Clio said, "We are still discussing our future model operation plan. Now, we are in close discussion with all the stakeholders. We need to cope with the current situation wisely. We are planning to carry out promotional activities in the future"
An official said, "All advertising brands that have promoted using celebrities which are now on suspicion of abuse are affected. The brands recruiting idol models specify strong liability for damages. This is in case of issues such as, 'academia' in the contract. We are working on follow-up measures."
Post You Might Be Interested In:
Apink's Naeun Bullying Controversy Leads To Removed Advertisements
Minah Kwon Of AOA Had A Fight With A Nurse