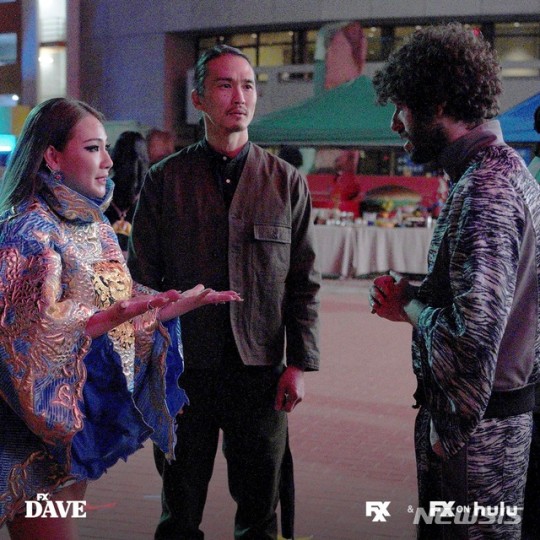 Singer CL is attracting attention by appearing as a cameo in the first episode of the second season of the popular American comedy series 'Dave.'
CL appeared as a cameo in the first episode of the second season of 'Dave.'
The episode she appeared in aired on June 16th (local time).
'Dave' is a comedy show in which popular American comedian and rapper 'Lil Dicky' plays Dave, a fictional character who is convinced he is destined to become one of the greatest rappers of all time.
It airs through Disney's cable channel 'FXX' last year and received favorable reviews. Famous rappers YG, Young Thug, Meek Mill, including pop star Justin Bieber, appeared as cameos. As a result, it became a hot topic at that time.
In the show, CL appears as a star representing K-pop just like she is in reality. She lives a busy life that does not even have time to take a selfie with Dave.
Dave hires CL for a music video for a song inspired by K-pop. However, Dave not only kept her waiting for a long time, because Dave gave the wrong time, but rather blamed her for being late. In response, CL felt that they did not respect K-pop while taking advantage of the popularity of K-pop. So, she left the music video set.
CL's representative said, "CL gave a stingy impression as a K-pop singer on some misconceptions about K-pop through this episode."
In this broadcast, the late Andre Kim's (famous Korean Fashion designer) dress appeared in CL's own style.
In the meantime, CL is working on a new album and will appear as a producer on JTBC's audition program 'Super Band 2.' It will air for the first time on June 21st, and will meet viewers every week.
Read More About: BLACKPINK Jennie's Transformation, Showed On Instagram
2021 kpop
,
2021 kpop girl idols
,
2021 kpop news
,
2021 kpop news updates
,
2021 kpop updates
,
2021 news kpop
,
2021 updates on kpop
,
2ne1
,
2NE1 CL
,
2NE1 KPOP
,
2NE1_CL
,
CL OF 2NE1
,
KPOP
,
Kpop 2021
,
KPOP 2NE1
,
Kpop artist
,
Kpop artists
,
Kpop idols
,
Kpop news
,
Kpop trend
,
Kpop trending
,
KPop trending news
,
Kpop trending now
,
kpop trending update
,
KPOP2021
,
Kpopall
,
KPOPIDA
,
KPOPNEWS
,
Kpopnews 2021
,
Kpopnews2021
,
Trending
,
trending 2021
,
trending kpop
,
Trending Kpop news
,
trending kpop update
,
trending news
,
trending update kpop