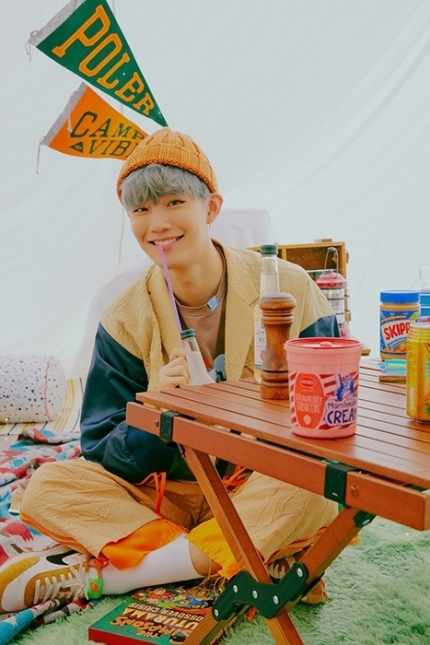 CIX member Seung-Hoon will meet with the audiences through the movie 'Turn: The Street'.
On the 4th, the agency C9 Entertainment said, "The movie 'Turn: The Street' will star Seung-Hoon of CIX. The release schedule will be this March."
'Turn: The Street' is a story about young people wandering between dreams and reality. They are uniting for one goal of dancing, passionately loving and growing through friendship. The casting includes talented idols and emerging actors like Seung-Hoon. The movie is like the Korean version of 'Step Up'.
In the movie, Seung Hoon took on the role of 'Seunghun' who's a dance genius. He does his best in every moment, dancing, loving, and starring in his first movie. Seung-Hoon plans to realistically express the 'Seunghun' character based on his own life experiences as a real trainee. In addition, the movie is expected to show powerful and outstanding performances proven through CIX activities.
In the main poster, we can see a back view of 'Seung-Hoon' while dancing deeply to music. He's wearing a headset on a sunny day.
The group CIX to which Seung-Hoon belongs has released their latest 4th EP album 'Hello Chapter Ø'.
Other Post You May Like:
EXO's Chanyeol Attends 'The Box' Movie Premiere Despite His Privacy Controversy
Day6 Member Jae, Quit Personal Broadcasting
c9 entertainment
,
CIX
,
Cix kpop
,
CIX Member
,
Cix seunghoon
,
KPOP
,
Kpop artist
,
Kpop artists
,
Kpop boy group
,
Kpop boy idols
,
Kpop Cix
,
kpop group
,
Kpop hottest singer
,
Kpop idols
,
Kpop issues
,
Kpop news
,
Kpop trending
,
Kpop websites
,
KPOP2021
,
KPOPIDA
,
KPOPNEWS
,
Kpopstars
,
Seunghoon CIX
,
Trending Kpop news