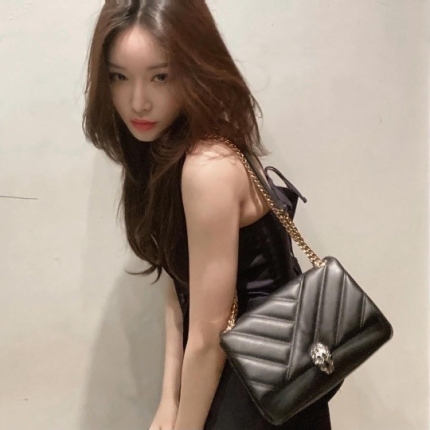 Chungha boasted her attractive visual.
On the 25th of March, Chungha posted a picture with her bag on her official Instagram account. She left a message saying "daily" along with her picture.
In the photo, she was wearing a black dress and paired it with a bag, which creates a chic atmosphere. She showed off her beauty with a slim face and clear features. Also, she showed off her haughty look.
Meanwhile, Chungha has been active with her new song, 'Bicycle.'
Read More About: Brave Girls Yujeong Posted On Instagram
2021 kpop news
,
2021 kpop updates
,
Chungha
,
chungha age
,
Chungha Instagram
,
Chungha sns
,
chungha visual
,
chunghaa visual
,
KPOP
,
Kpop 2021
,
Kpop artist
,
Kpop artists
,
Kpop hottest singer
,
Kpop idols
,
Kpop news
,
Kpop trend
,
Kpop trending
,
KPop trending news
,
Kpop trending now
,
kpop trending update
,
KPOP2021
,
Kpopall
,
KPOPIDA
,
KPOPNEWS
,
singer chungha
,
Trending
,
trending 2021
,
trending kpop
,
Trending Kpop news
,
trending kpop update
,
trending news
,
trending update kpop