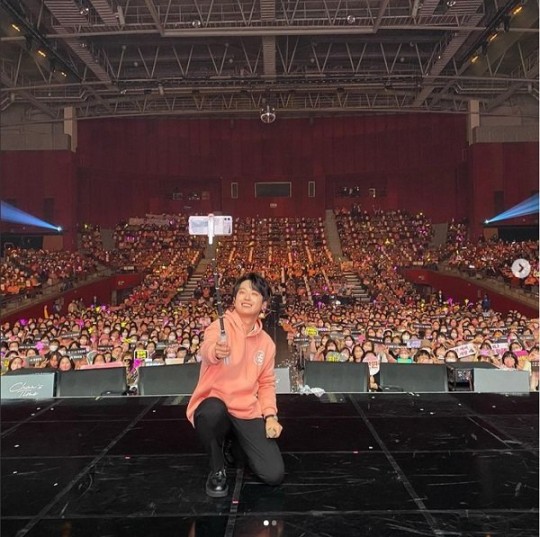 Kpop singer Chanwon Lee shared happy moments with fans at his fan concert. Chanwon Lee meets fans at his first fan concert, 'Chan's Time.'
'Chan's Time' started with the Seoul performance held at the Olympic Hall in Olympic Park for two days, from October 23 to 24. Then, it was followed by performances in Daegu and Busan.
Earlier, Chanwon Lee said through his personal social media after the Seoul performance, "I will never forget and cherish the moments of so much happiness for the rest of my life. Above all, I love all of you who made this moment so happy," he said. He is expressing his joy and gratitude despite his busy tour schedule. He reveals his happiness of being able to be with the fans.
Mainly, all performances in Seoul, Daegu, and Busan sell out, proving Chanwon's undying popularity. In the Seoul concert, all tickets for the second performance sell out in one minute. Then, the second performance added after that also sell out right after the ticket sale started. So, it only demonstrates the power of his fandom.
Chanwon Lee plans to make more special memories by meeting fans from all over the country. It includes Goyang, Incheon, Daegu, Gwangju, and Changwon, as well as Ulsan performances on December 4 and 5.
Chanwon Lee released his own fan song 'A Very Good Day' for the first time at the Seoul performance of 'Chan's Time.'
Then, at the Busan concert, he presented various performances, such as a drum performance of 'convenience store,' stimulating the fans' hearts.
Kpop singer Chanwon Lee's 'Chan's Time' Ulsan performance will be at KBS Ulsan Hall from December 4 to 5. Then, the Goyang performance will be on December 11 and 12, Incheon performance on December 18 and 29, Daegu performance on December 24 and 25, and Gwangju performance on December 26. On December 31 and January 1, Chanwon will host the Changwon performance.
Read More About: LUCY Will Host Their 2nd Solo Concert Starting Today!
2021 kpop news
,
2021 kpop news updates
,
2021 news kpop
,
best kpop news site
,
breaking news kpop
,
CHANWON LEE
,
CHANWON LEE kpop
,
daily kpop news
,
Korean celeb news
,
KPOP
,
Kpop 2021
,
Kpop artist
,
Kpop artists
,
kpop celebrity news
,
kpop chanwon lee
,
Kpop chart and news
,
kpop daily news
,
Kpop idols
,
Kpop latest news
,
Kpop news
,
Kpop news articles
,
kpop news update
,
Kpop recent news
,
Kpop trend
,
Kpop trending
,
KPop trending news
,
Kpop trending now
,
KPOP2021
,
KPOPIDA
,
KPOPNEWS
,
Kpopnews 2021
,
Lee chanwon
,
trending kpop
,
Trending Kpop news
,
trending kpop update
,
trending news
,
trending update kpop