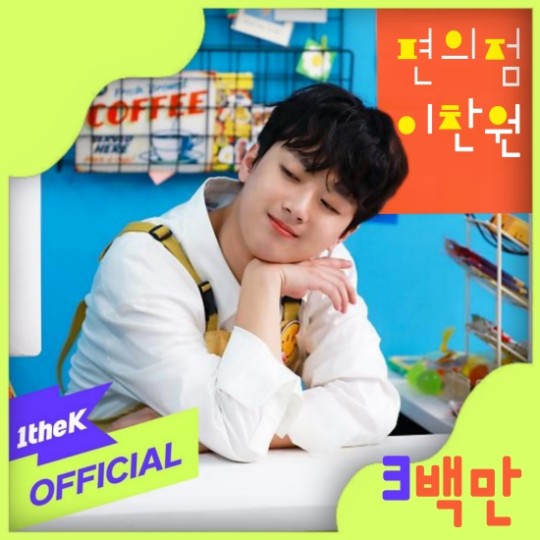 Kpop singer Chanwon Lee's 'Convenience Store' official music video (1theK version) surpassed 3 million views as of the dawn of September 20th.
On August 25th, a video titled '[MV] Lee Chan Won_Convenience store' was posted on 1theK, the official MV distribution channel.
This channel is an official channel that distributes YouTube music videos, and the number of MV views uploaded to 1theK also reflects in the music broadcast rankings.
As soon as the release of the music video, fans' interest in Chanwon Lee's 'Convenience Store' continued to rise, setting several records. 
First, on August 26, one day after releasing the music video, it ranked second on the YouTube popular video chart. Popular Videos are videos that are likely to be interesting and new to various viewers among newly posted videos. They evaluate the number of views and their growth rate, the source of the number of views, and the upload period of the video from various angles. 
In addition, this video has surpassed 1 million views on August 29th. It is a remarkable accomplishment achieved four days after its release. 
In the end, the MV of 'Convenience Store' proved its popularity by taking first place on the YouTube Music Popular Music Video Chart. It is a chart that shows the ranking of the most played music videos for a week. As of August 27th to September 2nd, it took first place in all singer categories on YouTube's Weekly Popular Music Video Top 100 chart.
In this chart, Chanwon Lee proved his potential by taking first place in trot and non-trot categories. In fact, the music video for 'Convenience Store' (1theK version) ranked No. 1 on YouTube's trending music chart at 7 am on September 4th. Then, it maintained the No. 1 position for three days.
After that, fans continuously viewed the video along with the popularity of the 'convenience store.'
In less than a month after its release, it surpassed 3 million views. 
As a result, the official music video for 'Convenience Store' surpassed 4.77 million views. It includes 1theK channel (3 million), Chanwon Lee's YouTube (1.6 million), and the New Era Project channel (140,000).
The number of views like this shows the extraordinary popularity of Chanwon Lee and his song 'convenience store.'
The song 'convenience store' stands for 26 years of authentic trot single-road life, and the warm consolation of Chanwon Lee.
Kpop singer Chanwon Lee appeared in the music video directly. He showed affection for one person playing three roles: a convenience store part-time student, a talk show host, and a singer. 
Even now, the popularity of 'convenience store' is still in progress, so expectations for future records are growing. 
Read More About: Brave Girls, Mujin Lee, & SG Wannabe: The Icons Of Hope In The Music Industry
2021 kpop news
,
2021 kpop news updates
,
2021 news kpop
,
best kpop news site
,
CHANWON LEE
,
CHANWON LEE kpop
,
convenience store
,
daily kpop news
,
Korean celeb news
,
KPOP
,
Kpop 2021
,
Kpop artist
,
Kpop artists
,
kpop celebrity news
,
kpop chanwon lee
,
kpop daily news
,
Kpop idols
,
Kpop latest news
,
Kpop news
,
Kpop recent news
,
Kpop trend
,
Kpop trending
,
KPop trending news
,
Kpop trending now
,
KPOP2021
,
KPOPIDA
,
KPOPNEWS
,
Kpopnews 2021
,
Kpopnews2021
,
latest kpop news
,
Lee chanwon
,
recent kpop news
,
Trending
,
trending 2021
,
trending kpop
,
Trending Kpop news
,
trending kpop update
,
trending news
,
trending update kpop