Kpop group bugAboo (Eunchae, Cyan, Choyeon, Yoona, Rainie, and Zin) made global fans' hearts flutter with a new concept photo.
BugAboo released concept photos of units and groups on its official social media channel at midnight on October 8. The released photos make it impossible for fans to take their eyes off it.
In the published group photo, BugAboo showed off her girl crush charm like a female warrior in an eerie atmosphere and caught the attention of Kpop fans with their unique styling that contrasts with the dark background.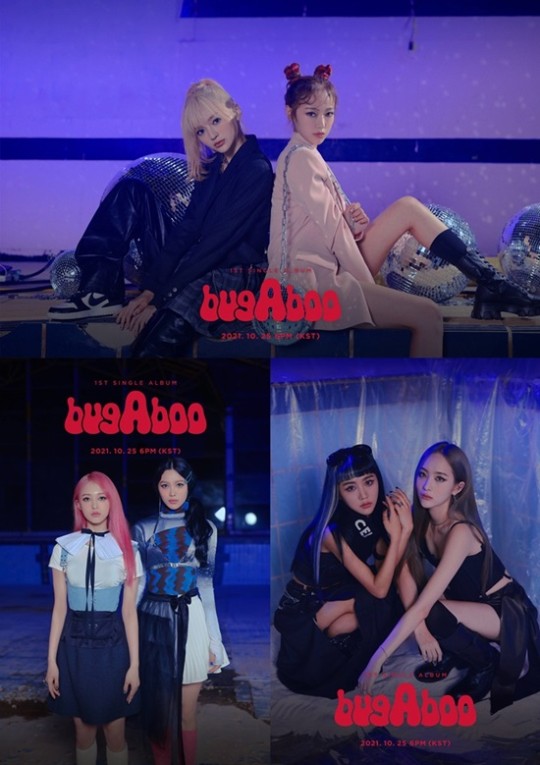 The unit photos released showed the dazzling looks of each member, surprising the public. Choyeon and Zin overwhelmed the eyes of the fans with their intense poses between the flashy mirror balls. Then, Yoona and Rainie exude a captivating aura in a dreamy atmosphere. Also, Eunchae and Cyan stare at the front in a provocative yet imposing pose under the blue lighting, making the viewer excited.
Earlier, BugAboo showed a bizarre concept in their debut trailer and album concept photos following their debut photos. They are signaling unique storytelling differentiated from other groups, amplifying global fans' interest. BugAboo announced its official debut on October 25. They will release the tracklist and music video teaser sequentially following the concept photos.
In addition, BugAboo became the goodwill ambassador for the Korea Youth Federation, following SHINee, GOT7, THE BOYZ, and SISTAR to become a full-fledged next-generation K-pop representative.
Meanwhile, Kpop group BugAboo will unveil their debut song on their debut showcase on October 22 ahead of the official release on October 25 at 6 pm.
Read More About: ONEWE 'Let's Play, Hongdae XR' Special Kit Launches Today!
best Kpop girl group
,
best kpop news site
,
best kpopstar
,
boy band GOT7
,
breaking news kpop
,
crush
,
crush news
,
Crush updates
,
daily kpop news
,
DIVE
,
Fandom
,
Got7
,
GOT7 members
,
GOT7 news
,
hip-hop singer Crush
,
Hyoseob Shin
,
Jinyoung
,
JYP Entertainment
,
Korean celeb news
,
Korean singer
,
Korean singer songwriter
,
KPOP
,
Kpop album
,
Kpop beauty routine
,
Kpop boy group
,
kpop celebrity news
,
Kpop chart and news
,
Kpop colllaboration
,
KPOP comeback
,
Kpop current news
,
kpop daily news
,
Kpop fashion
,
Kpop girls group
,
Kpop GOT7
,
Kpop idols
,
Kpop issues
,
Kpop latest news
,
Kpop music chart
,
Kpop news
,
Kpop news articles
,
Kpop news sites
,
kpop news update
,
Kpop recent news
,
kpop singer crush
,
Kpop skin care routine
,
Kpop skincare routine
,
KPop trending news
,
KPOPNEWS
,
singer crush
,
Sometimes
,
South Korean singer songwriter
,
the best kpop girl group
,
the best kpop girl group of 2021
,
the best kpop group of 2021
,
the top kpop group
,
top kpop boy group
,
top kpop girl group