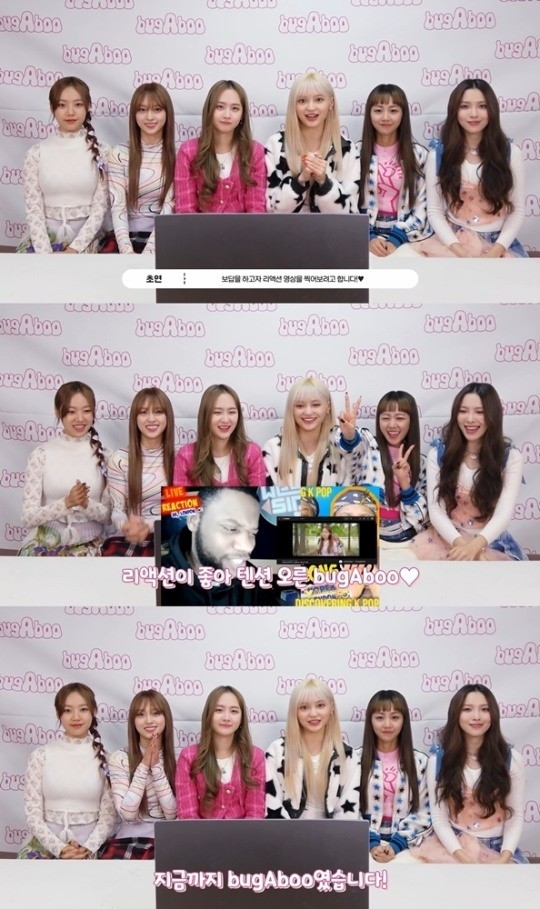 Kpop girl group BugAboo responded to the love of global fans. On November 26, BugAboo members (Eunchae, Yoona, Rainie, Cyan, Choyeon, and Zin) released a reaction video through their official YouTube channel.
The video started announcing the end of their official activities for the debut album 'bugAboo.'
The members filled the video with their love for fans. They showed and a side full of determination that's different from their intense appearance on the stage.
Mainly, BugAboo members showed high tension, such as showing emotion throughout watching the reaction video of global fans, copying the point choreography, or enjoying it together in the highlight part, making fans smile.
In addition, they expressed their gratitude for fans' great interest and love through the video. The members said, "We're so nervous that so many people are watching the music video. We feel responsible for showing better performance in the future."
BugAboo prepared this reaction video to repay the music video reaction videos that fans have done so far. They gained attention by reacting to the fans' videos and expressing gratitude for the fans' love.
BugAboo successfully completed their single album 'BugAboo' activities. But, due to fans' requests for a comeback, they appeared on November 27 at MBC's 'Show! Music Core.'
Also, they will appear on SBS MTV's 'The Show' on November 30 and present another high-quality performance.
Kpop girl group BugaBoo, who responded to fans' love, will continue to communicate actively with fans through various activities in the future.
Read More About: ATEEZ To Make A Speedy Comeback On December 10
2021 kpop news
,
2021 kpop news updates
,
2021 news kpop
,
best kpop news site
,
bugaboo
,
bugaboo news
,
daily kpop news
,
Korean celeb news
,
KPOP
,
Kpop 2021
,
Kpop artist
,
Kpop artists
,
kpop bugaboo
,
kpop celebrity news
,
Kpop chart and news
,
kpop daily news
,
kpop group bugaboo
,
Kpop idols
,
Kpop latest news
,
Kpop news
,
Kpop news articles
,
kpop news update
,
Kpop recent news
,
Kpop trend
,
Kpop trending
,
KPop trending news
,
Kpop trending now
,
KPOP2021
,
KPOPIDA
,
KPOPNEWS
,
Kpopnews 2021
,
pre-debut group bugaboo
,
recent kpop news
,
rookie group bugaboo
,
Trending
,
trending 2021
,
trending kpop
,
Trending Kpop news
,
trending kpop update
,
trending news
,
trending update kpop