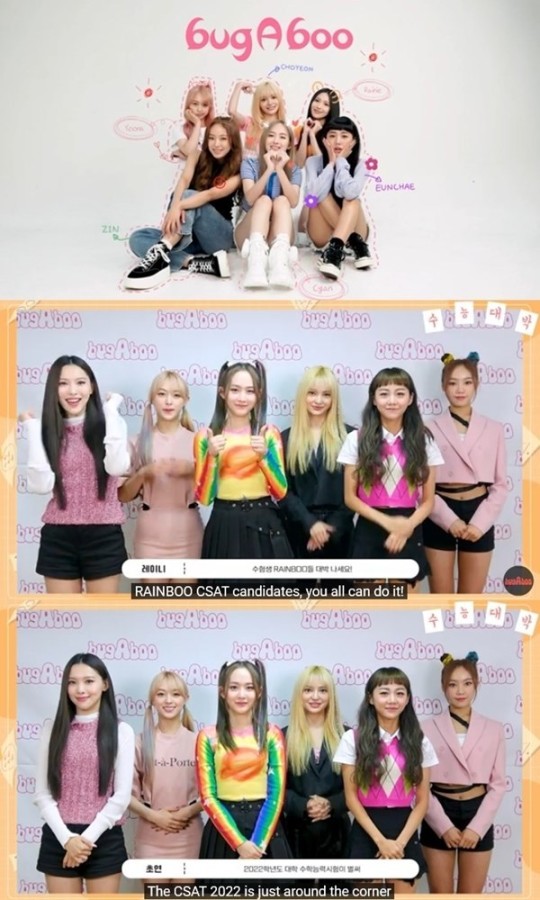 Kpop group BugAboo (Eunchae, Yoona, Rainie, Cyan, Choyeon, and Zin) gave support to the students. BugAboo released a video to support the CSAT (Scholastic College Ability Test) on November 16 at 3 pm on the official YouTube channel of BugAboo.
In the released video, BugAboo gave a bright energy-filled cheer for the students, creating a sense of warmth. The members said, "The weather seems to get colder when we get the entrance exam. Everyone, please wear warm clothes."
At the same time, Eunchae emphasized the importance of physical condition, saying, "Everyone must be in good condition, and everyone needs to go to bed early."
Zin sent a heartfelt message of support, saying, "All the students, don't be nervous. I hope you can show off your skills as much as you have worked hard."
Mainly, they delivered gifts for juniors from their alma mater and did not forget their extraordinary love for juniors.
Lastly, BugAboo, who instilled confidence in the students by shouting "Fighting for the CSAT," delivers a message to achieve their dreams by overcoming the fearful existence in their hearts together through their debut album 'BugAboo.'
This video is a cheer that touches the hearts of the fans.
BugAboo is taking one step further towards their dreams with fans. They appeared like a comet in the music industry with their first single album, 'bugAboo' in October last year. The video also surpassed 14 million views on YouTube within three weeks after its release and has emerged as the trending idol.
Meanwhile, Kpop group bugAboo has entered the 4th week of activity with their debut album. They plan to continue their activities in various forms in the future.
Read More About: CLC Sorn Terminates Exclusive Contract With Cube Entertainment
2021 kpop news
,
2021 kpop news updates
,
2021 news kpop
,
best kpop news site
,
bugaboo
,
bugaboo news
,
daily kpop news
,
Korean celeb news
,
KPOP
,
Kpop 2021
,
Kpop artist
,
Kpop artists
,
kpop bugaboo
,
kpop celebrity news
,
kpop daily news
,
kpop group bugaboo
,
Kpop idols
,
Kpop latest news
,
Kpop news
,
kpop news update
,
Kpop recent news
,
Kpop trend
,
Kpop trending
,
KPop trending news
,
Kpop trending now
,
KPOP2021
,
KPOPIDA
,
KPOPNEWS
,
Kpopnews 2021
,
Kpopnews2021
,
latest kpop news
,
pre-debut group bugaboo
,
recent kpop news
,
rookie group bugaboo
,
trending kpop
,
Trending Kpop news
,
trending kpop update
,
trending news
,
trending update kpop