British legendary band 'Queen' hinted a collaboration with BTS.
On the morning of May 19th, an article related to BTS was posted on Queen's official social network account, attracting attention.
Queen posted the phrase "Another One Bites The Dust X #BTS_Butter." It is along with the phrase, "Are you ready hey, are you ready for this."
In addition, the post showed a video of Freddie Mercury, who is singing on the stage in the past. Also, they attached the music video teaser for the new digital single 'Butter' released by BTS on their official social media account.
'Another One Bites The Dust' is one of Queen's hit songs with a total of 7 million copies sold worldwide. Queen member John Deacon wrote and composed the song and was once banned in Korea for violent lyrics.
In fact, BTS posted the 'Butter' music video teaser on their official social media on the same day. This 19-second video starts with the appearance of BTS standing side by side. Then, it ends with a scene of butter placed on a pancake.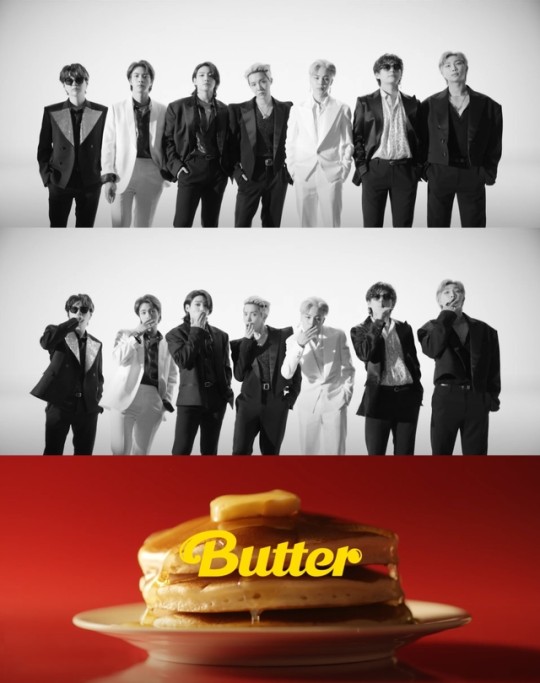 The seven members in the video dance in a suit, bobbing their heads in one direction to match the intense beat. It features a stylish production with a black-and-white screen with light movements that only move shoulders and heads.
The video ends with the song "Get it, let it roll" with a pancake topped with butter. Then, followed by BTS, who put their hands in their mouths with a surprised look on their faces.
BTS will be releasing their new song 'Butter' all over the world on May 21st. It is a dance-pop-based song with a bright and exciting theme.
Read More About: BTS Released 'Butter' Music Video Teaser
BTS
,
BTS Army
,
BTS News
,
BTS today
,
bts trending
,
BTS UPDATES
,
BTSTREND
,
Group BTS
,
KPOP
,
Kpop artist
,
Kpop artists
,
KPOP BTS
,
Kpop news
,
Kpop trend
,
Kpop trending
,
KPop trending news
,
Kpop trending now
,
kpop trending update
,
Kpop_BTS
,
KPOP2021
,
KPOPIDA
,
KPOPNEWS
,
Trending
,
trending 2021
,
trending kpop
,
Trending Kpop news
,
trending kpop update
,
trending news
,
trending update kpop