Kpop group BTS performed for a Global charity concert. With Sungnyemun Gate as the background, they performed 'Permission to Dance.'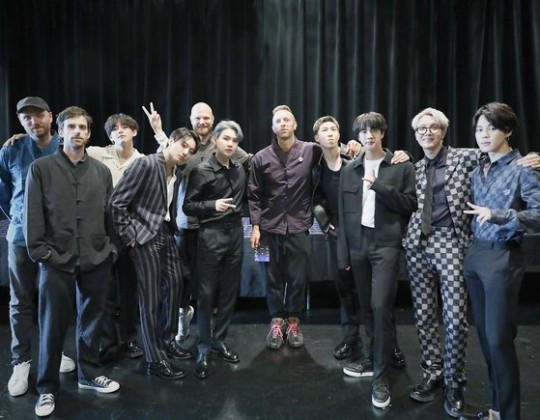 The collaboration between BTS and the international rock band Coldplay, 'My Universe,' reached the top of the iTunes charts in each country.
'My Universe,' released on September 24, ranks first on the iTunes Top Song charts in the US, France, Germany, Canada, Spain, Australia, and Brazil. 'My Universe' is a rock ballad-style song, written and composed by BTS and Coldplay together.
As a message to convey hope for a new beginning, along with English lyrics, there are Korean lyrics such as, "Because, you are my stars and my universe / These hardships are just temporary / Just shine as bright as you shine now / We will follow you to adorn this long night."
Chris Martin of Coldplay went to Korea earlier in April to collaborate. Coldplay will also include this song on their 9th full-length album to be out on October 15th.

In addition, the two solo songs of BTS Jungkook ranked in the top 10 of the US Billboard World Digital Song Sales Chart for 10 consecutive weeks. It is raising his momentum at the same time. According to the latest chart released by the US Billboard, Jungkook's 'My Time' and 'Euphoria' placed 7th and 8th, respectively.
Meanwhile, BTS set the stage for the first charity concert 'Global Citizen Live' held on September 26th. The international charity organization, Global Citizen, organized this event. It aims to call for attention to issues facing the world. It includes climate change, poverty, and COVID-1. Also, it led to a greeting format by moderators on relays in major cities across the continent.
LA host, Scott Evans, introduced BTS, "I don't know if there is a more popular group in the world right now."

BTS shouted "Welcome to Seoul, Korea" and presented 'Permission to Dance.'
They pre-recorded their performance against the backdrop of Sungnyemun Gate's night view.
The backdrop of Sungnyemun Gate shines with colorful lights. 40 dancers joined together with BTS to present a dynamic performance using international sign language meaning 'fun,' 'dance' and 'peace.'
"We set up this stage to convey the beauty of Sungnyemun Gate to the world. Also, we used traditional Korean designs in the stage structure and floor design," BTS explained.

Global Citizen Live was part of the Global Citizen campaign to protect the global environment and fight poverty. Starting with BTS performing in Seoul, artists, activists, and leaders from various fields continued performances at iconic venues in major cities across the continent. It includes New York, Paris, Dubai, London, Los Angeles, Lagos, Rio de Janeiro, and Sydney.
In fact, Elton John and Ed Sheeran performed at the Champs de Mars Square in Paris. Then, Coldplay, Billy Eilish, and Jennifer Lopez performed in Central Park in New York.
'Global Citizen Live' will air on ABC channels in the United States at 8:00 AM CEST on September 27th.
Read More About: BTS Jungkook's Overseas Fandom Donates To An International Poverty Eradication Organization
agust d
,
best Kpop girl group
,
best kpop news site
,
best kpopstar
,
breaking news kpop
,
BT21
,
BTS
,
BTS Army
,
BTS BILLBOARD
,
bts butter
,
BTS fancam
,
BTS I'll Be Missing You
,
BTS J-Hope
,
bts jimin
,
bts Jungkook
,
BTS member
,
bts member Jimin
,
BTS member V
,
BTS Members
,
BTS News
,
BTS recent news
,
BTS routine
,
BTS solo songs
,
bts suga
,
BTS trending news
,
BTS UPDATES
,
BTS V
,
daily kpop news
,
Fandom
,
Filter
,
J-hope
,
JIMIN
,
Jin
,
JUNGKOOK
,
Korean celeb news
,
Korean singer
,
Korean singer songwriter
,
KPOP
,
Kpop album
,
Kpop beauty routine
,
Kpop boy group
,
KPOP BTS
,
kpop celebrity news
,
Kpop chart and news
,
Kpop colllaboration
,
KPOP comeback
,
Kpop current news
,
kpop daily news
,
Kpop fashion
,
Kpop girls group
,
Kpop idols
,
Kpop issues
,
Kpop latest news
,
Kpop music chart
,
Kpop news
,
Kpop news articles
,
Kpop news sites
,
kpop news update
,
Kpop recent news
,
Kpop skin care routine
,
Kpop skincare routine
,
KPop trending news
,
KPOPNEWS
,
permission to dance
,
RM
,
Run BTS
,
South Korean singer songwriter
,
SUGA
,
TAEHYUNG KIM
,
the best kpop girl group
,
the best kpop girl group of 2021
,
the best kpop group of 2021
,
the top kpop group
,
top kpop boy group
,
top kpop girl group
,
V
,
weverse magazine