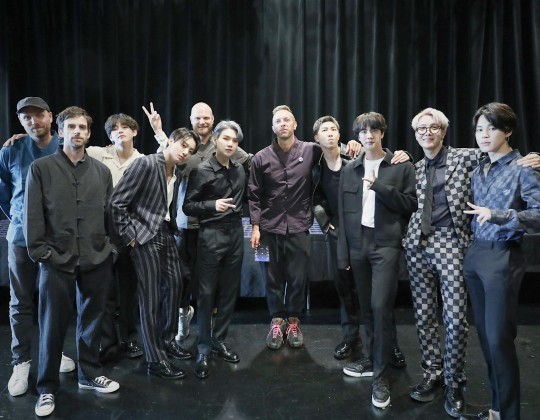 A lyric video of the band Coldplay song 'My Universe' in which the Kpop group BTS participated was released.
On September 24th (KST), Coldplay released the video of the Lyrics version of 'My Universe' on their official YouTube channel. A little over three hours after it was published, it has surpassed 4.7 million views as of now, proving its global popularity.
The published video contains handwritten lyrics written by Coldplay and BTS members. Especially, 'My Universe,' written in Korean at the beginning of the video, catches the fans' attention. In addition to the video, Coldplay also introduced BTS by providing detailed information about the members.
At 'My Universe,' released at noon, BTS sang between Korean and English lyrics.
'My Universe' is a pre-release song from Coldplay's ninth full-length album 'Music of the Spheres,' which they will release on October 15th.
Read More About: BTS Will Return To Korea Tomorrow After Completing Envoy Activities At The UN General Assembly
agust d
,
best Kpop girl group
,
best kpop news site
,
best kpopstar
,
breaking news kpop
,
BT21
,
BTS
,
BTS Army
,
BTS BILLBOARD
,
bts butter
,
BTS fancam
,
BTS I'll Be Missing You
,
BTS J-Hope
,
bts jimin
,
bts Jungkook
,
BTS member
,
bts member Jimin
,
BTS member V
,
BTS Members
,
BTS News
,
BTS recent news
,
BTS routine
,
BTS solo songs
,
bts suga
,
BTS trending news
,
BTS UPDATES
,
BTS V
,
daily kpop news
,
Fandom
,
Filter
,
J-hope
,
JIMIN
,
Jin
,
JUNGKOOK
,
Korean celeb news
,
Korean singer
,
Korean singer songwriter
,
KPOP
,
Kpop album
,
Kpop beauty routine
,
Kpop boy group
,
KPOP BTS
,
kpop celebrity news
,
Kpop chart and news
,
Kpop colllaboration
,
KPOP comeback
,
Kpop current news
,
kpop daily news
,
Kpop fashion
,
Kpop girls group
,
Kpop idols
,
Kpop issues
,
Kpop latest news
,
Kpop music chart
,
Kpop news
,
Kpop news articles
,
Kpop news sites
,
kpop news update
,
Kpop recent news
,
Kpop skin care routine
,
Kpop skincare routine
,
KPop trending news
,
KPOPNEWS
,
permission to dance
,
RM
,
Run BTS
,
South Korean singer songwriter
,
SUGA
,
TAEHYUNG KIM
,
the best kpop girl group
,
the best kpop girl group of 2021
,
the best kpop group of 2021
,
the top kpop group
,
top kpop boy group
,
top kpop girl group
,
V
,
weverse magazine