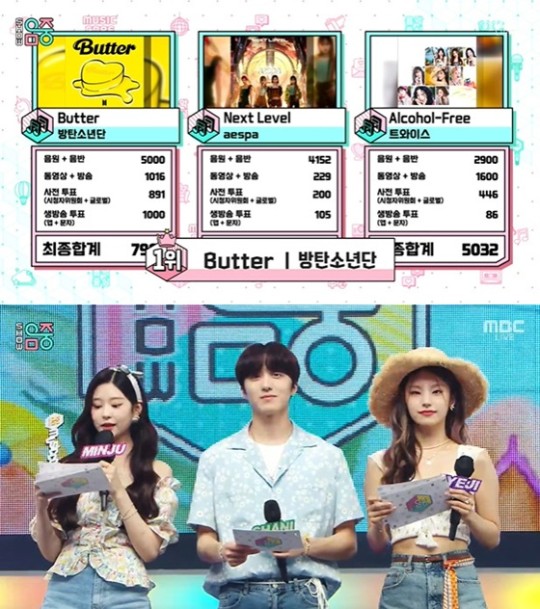 The group BTS surpassed AESPA and TWICE, taking the top spot on 'Show! Music Core.'
In MBC 'Show! Music Core,' BTS' 'Butter' beat AESPA's 'Next Level' and TWICE's 'Alcohol-Free,' taking first place. As a result, BTS topped the 'Show! Music Core' chart for 5 weeks in a row.
'Butter,' released on May 21st, is a refreshing dance-pop song with BTS's cute confession. The song has been at the top of the Billboard Hot 100 for 4 weeks, continuing its global popularity.
On the same day, A.C.E made a comeback after 9 months with the fifth mini-album, 'SIREN: DAWN.' A.C.E, who went on stage with the title song 'Higher,' sang about the love of a mermaid, exuding a mysterious charm.
Seungyoon Lee, the winner of JTBC's 'Sing Again,' returned with 'Unspoken.' Seungyoon Lee radiated his free-spirited energy with the song's addictive guitar riffs.
Also, there were special performances. WEi gave a refreshing performance with 'In Summer,' Jaehwan Kim with 'The Blue Night Of Jeju Island,' and Sewoon Jeong with 'Let's Go See the Stars.' They completed the show with their sweet stage performances.
On this day, 'Show! Music Core' featured various artists. It includes BamBam, Brave Girls, A.C.E, Seungyoon Lee, Sewoon Jeong, Jaehwan Kim, WEi, UP10TION, ONEWE, Woo!ah!, GHOST9, LIGHTSUM, EPEX, Davicher, MISS T, and Hi Ryang.
Read More About: 'Twilight Saga' Reacts To BTS Jin Mentioning The Movie On 'Run BTS'
2021 kpop news
,
2021 kpop updates
,
ACE
,
ACE members
,
ACE_SIREN:DAWN
,
AESPA
,
aespa kpop
,
aespa news
,
BTS
,
BTS Army
,
BTS News
,
BTS songs
,
BTS today
,
bts trending
,
BTS UPDATES
,
BTSTREND
,
Group BTS
,
KPOP
,
Kpop 2021
,
Kpop artist
,
Kpop artists
,
KPOP BTS
,
Kpop idols
,
Kpop news
,
Kpop trend
,
Kpop trending
,
KPop trending news
,
Kpop trending now
,
kpop trending update
,
Kpop_BTS
,
KPOP2021
,
Kpopall
,
KPOPIDA
,
KPOPNEWS
,
Trending
,
trending 2021
,
trending kpop
,
Trending Kpop news
,
trending kpop update
,
trending news
,
trending update kpop
,
TWICE
,
TWICE KPOP NEWS
,
Twice_KPOP
,
twice_taste of love
,
Wei
,
wei performances