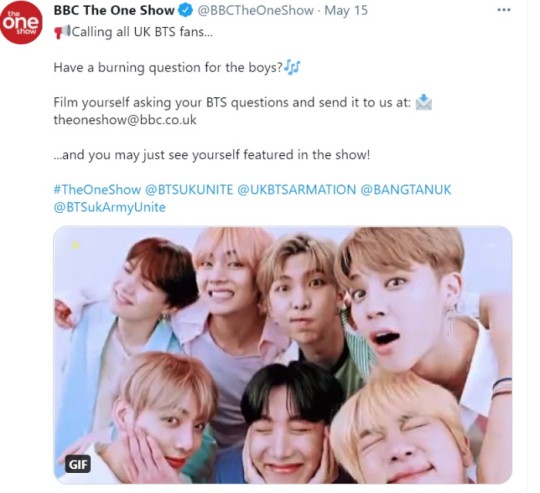 Will BTS appear on the BBC's 'The One Show?'
The BBC's 'The One Show' gathered 'Questions for BTS' on May 15th through their official social media. The recruitment article was "Calling all UK fans, do you have burning questions for the boys? Film yourself asking your BTS questions and send it to us (e-mail). You may see yourself featured in the show."
Global Internet users showed high expectations, predicting that the group would appear on 'The One Show' as the program gathered video clips of questions about the group.
BBC 'The One Show' is a live talk show that airs every day at 7 pm. It's full of hot topics or with famous guests.
BTS is about to make their global comeback in 6 months with the single 'Butter' on May 21st.
Read More About: QUEEN Band Cheered For BTS Comeback Song
BBC The One Show
,
BTS
,
BTS News
,
BTS today
,
bts trending
,
BTS UPDATES
,
BTSTREND
,
Group BTS
,
KPOP
,
Kpop 2021
,
Kpop artist
,
KPOP BTS
,
Kpop news
,
Kpop trend
,
Kpop trending
,
KPop trending news
,
Kpop trending now
,
kpop trending update
,
Kpop_BTS
,
KPOP2021
,
KPOPIDA
,
KPOPNEWS
,
Trending
,
trending 2021
,
trending kpop
,
Trending Kpop news
,
trending kpop update
,
trending news
,
trending update kpop