BTS V's own song, 'Snow Flower,' which V composed, received great love by surpassing 14.3 million sound cloud streams on the 100th day of its release.
On December 25th last year, BTS V expressed his gratitude and consolation to the fans who supported him in the gloomy coronavirus situation. V released 'Snow Flower' as a Christmas gift and gratitude to the many medical staff who made dedication in difficult situations. Also, V revealed 'Snow Flower' and said, "I think there will be many people with increased anxiety and depression. I hope that snow flowers will come down to your heart and feel a little warm comfort and happiness. Thank you to the fans."
'Snow Flower' is an R&B song with an impressive electric guitar performance. BTS V's attractive vocals gave warmth to the cold winter.
BTS V showed off his versatility by writing, composing, producing, as well as narrating songs. Inspired by V's movie, the narration was his idea, which adds to the fun.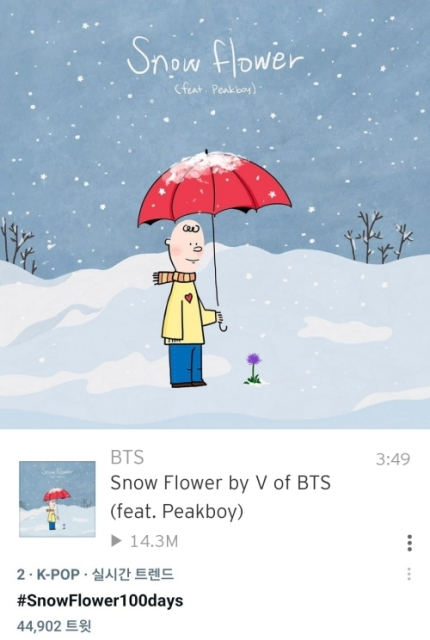 Peakboy also participated in featuring, producing, and demonstrating an unprecedented synergy. In an interview with the media, Peakboy said that BTS V requested to collaborate then created 'Snow Flower.'
Then, it becomes a motivation for music activities to rise again and to overcome difficult situations.
'Snow Flower' received the attention of American People Magazine at the time of its release. Also, 'Score', a music magazine, analyzed the message of 'Hope and Courage.' which V wants to convey. They also illuminated V's other self-composed songs.
December 30th was BTS V's birthday. Sumi Jo, a world-famous prima donna, released the cover song of 'Snow Flower' on her YouTube channel 'Sumi Jo Official,' on that day.
Sumi Jo presented the best birthday gift. 'Snow Flower,' which Sumi Jo sang, received hot responses from music fans worldwide.
Meanwhile, on the 100th day of the release of 'Snowflower', #Snowflower100days rose to second place in Korea's real-time trend. It also became a trend in a Paraguay fanpage, 'KTH Paraguay,' which celebrated the day with a donation.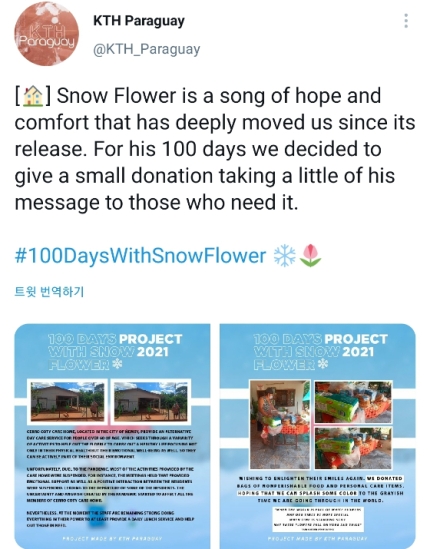 'KTH Paraguay' said, "Snow Flower' is a song of hope and consolation that moved us. We decided to donate to those who needed V's message." Spread love.
Read More About: BTS V Revealed The Meaning Of 'Borahae'