BTS V's solo song ' Singularity' surpassed 195 million streams on Spotify, the world's largest music platform.

'Singularity,' released as a comeback trailer for BTS's third full-length album 'LOVE YOURSELF: Tear,' drew admiration with V's sexy voice, meaningful lyrics, and dreamy choreography.
 It is an R&B genre song based on Neo Soul, which is difficult to find in BTS albums. It has been well received for broadening the horizons of BTS music along with its popularity.
Billboard praised V's soulful vocals, saying, "V's vocals with a wide range and deep voice tone are the backbone of BTS sound.'
Then, British 'The Guardian' said, "Singularity will be the best among the album's songs.'
Also, LA Times praised V's soulful singing ability.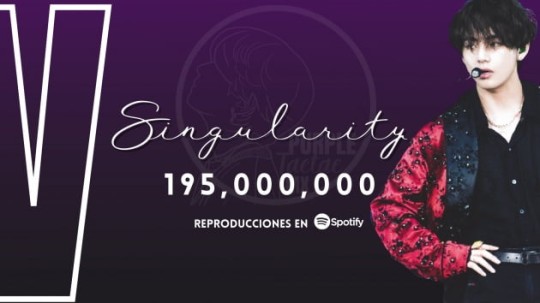 The US public broadcaster PBS said, "BTS V has a fascinating voice and approaches music in a special and clear way. The performance style is visually ecstatic," and named 'Singularity' as a 'KPOP fan song.'

In addition, Charlie J. Perry, the composer of 'Singularity,' praised V's vocals, saying, "I was so speechless because V played a simple code song so perfectly that the vocalist's ability was important. He impressed me that I lost my mind after hearing the completed song."

In addition, BTS V overwhelmed the eyes of fans with his sexy facial expression. His groovy performance matched the sensual sound. He was the only BTS member to win the Best Choreography Award at the Soompi Awards and was recognized for his dance skills.
The 'Singularity' performance, which highlights V's mournful facial expression, gained attention. It emerged as 'one of the must-see performances before ARMY dies' overseas. PBS said, "It's visually so enchanting to see the restrained choreography perfectly using a mask."
The New York Times admired, referring to the Citi field performance, "V's sensual singularity was the highlight of the concert."
You Might Also Like:
agust d
,
best Kpop girl group
,
best kpop news site
,
best kpopstar
,
breaking news kpop
,
BT21
,
BTS
,
BTS Army
,
BTS BILLBOARD
,
bts butter
,
BTS fancam
,
BTS I'll Be Missing You
,
BTS J-Hope
,
bts jimin
,
bts Jungkook
,
BTS member
,
bts member Jimin
,
BTS member V
,
BTS Members
,
BTS News
,
BTS recent news
,
BTS routine
,
BTS solo songs
,
bts suga
,
BTS trending news
,
BTS UPDATES
,
BTS V
,
daily kpop news
,
Fandom
,
Filter
,
J-hope
,
JIMIN
,
Jin
,
JUNGKOOK
,
Korean celeb news
,
Korean singer
,
Korean singer songwriter
,
KPOP
,
Kpop album
,
Kpop beauty routine
,
Kpop boy group
,
KPOP BTS
,
kpop celebrity news
,
Kpop chart and news
,
Kpop colllaboration
,
KPOP comeback
,
Kpop current news
,
kpop daily news
,
Kpop fashion
,
Kpop girls group
,
Kpop idols
,
Kpop issues
,
Kpop latest news
,
Kpop music chart
,
Kpop news
,
Kpop news articles
,
Kpop news sites
,
kpop news update
,
Kpop recent news
,
Kpop skin care routine
,
Kpop skincare routine
,
KPop trending news
,
KPOPNEWS
,
permission to dance
,
RM
,
Run BTS
,
South Korean singer songwriter
,
SUGA
,
TAEHYUNG KIM
,
the best kpop girl group
,
the best kpop girl group of 2021
,
the best kpop group of 2021
,
the top kpop group
,
top kpop boy group
,
top kpop girl group
,
V
,
weverse magazine