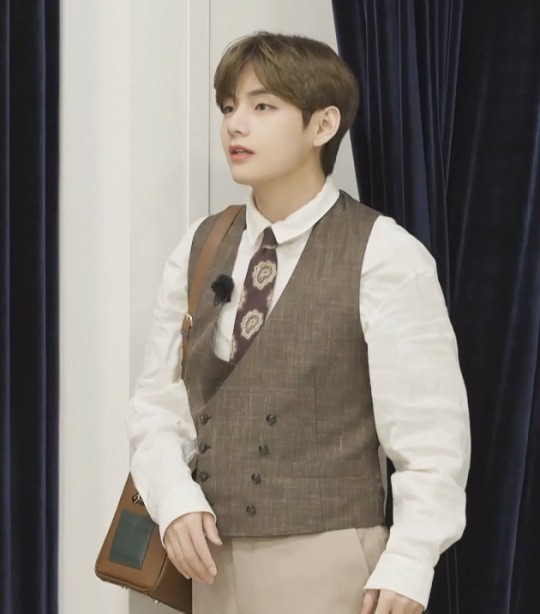 When the Mute Boston Bag and Brooch set planned by BTS V went on sale, they recorded sold out in seconds, surprising the world.
'ARTIST-MADE COLLECTION BY BTS: V' was sold at Weverse Shop, a fan commerce platform, at 11 am (KST) on January 11.
The brooch set and bag created meticulously and delicately, deciding on color, size, and material selection based on the design sketched by BTS V, received explosive attention right after its release. Even before the sale, social media was flooded with articles about the purchase intention of fans and the possibility of purchase due to fierce competition.
When the sale time started, fans worldwide clicked at the speed of light to purchase. But, when they clicked on time, it appeared out of stock immediately, leaving fans in a panic.
The bag, named MUTE after V's favorite game character, sells out in 1 second. Then, the brooch set sells out in 2 or 3 seconds in the order of cloud, flower, and face. So, all V's designed merch is sold out!
Luckily, some succeeded in adding it to the shopping cart. But, some fans failed to purchase it because it did not proceed to the payment stage due to being out of stock. Fans who failed to purchase V's bag were called 'VIRKIN' after the model of Birkin, which was difficult to buy, and '1-second bag,' which sold out in 1 second.
Shortly after the sale ended, V's bag was auctioned off on eBay, a platform where personal commerce is also conducted. The starting price of the auction varies from $2,000 to $10,000, and the auction is in progress. In just one hour, 82 people participated, and the price soared to $12,900, causing overheated competition.
Foreign media also quickly reported the news. The World Music Awards (WMA), called Europe's Billboard, said, "The Mute Boston Bag designed by V made a history of selling out the fastest in the world in just a few seconds. You did a good job, V," congratulating V, who holds two Guinness World Records.
USA TODAY, journalist Fatima said, "I don't want to talk about Taehyung's bag anymore because my heart is sick after failing to buy the bag."
Read More About: BTS Jungkook Delighted ARMY Fans With His Boxing Skills!
agust d
,
best Kpop girl group
,
best kpop news site
,
best kpopstar
,
breaking news kpop
,
BT21
,
BTS
,
BTS Army
,
BTS BILLBOARD
,
bts butter
,
BTS fancam
,
BTS I'll Be Missing You
,
BTS J-Hope
,
bts jimin
,
bts Jungkook
,
BTS member
,
bts member Jimin
,
BTS member V
,
BTS Members
,
BTS News
,
BTS recent news
,
BTS routine
,
BTS solo songs
,
bts suga
,
BTS trending news
,
BTS UPDATES
,
BTS V
,
daily kpop news
,
Fandom
,
Filter
,
J-hope
,
JIMIN
,
Jin
,
JUNGKOOK
,
Korean celeb news
,
Korean singer
,
Korean singer songwriter
,
KPOP
,
Kpop album
,
Kpop beauty routine
,
Kpop boy group
,
KPOP BTS
,
kpop celebrity news
,
Kpop chart and news
,
Kpop colllaboration
,
KPOP comeback
,
Kpop current news
,
kpop daily news
,
Kpop fashion
,
Kpop girls group
,
Kpop idols
,
Kpop issues
,
Kpop latest news
,
Kpop music chart
,
Kpop news
,
Kpop news articles
,
Kpop news sites
,
kpop news update
,
Kpop recent news
,
Kpop skin care routine
,
Kpop skincare routine
,
KPop trending news
,
KPOPNEWS
,
permission to dance
,
RM
,
Run BTS
,
South Korean singer songwriter
,
SUGA
,
TAEHYUNG KIM
,
the best kpop girl group
,
the best kpop girl group of 2021
,
the best kpop group of 2021
,
the top kpop group
,
top kpop boy group
,
top kpop girl group
,
V
,
weverse magazine