BTS V will officially release the OST 'Christmas Tree' for the SBS drama 'Our Beloved Summer' on December 24.
V played a leading role in the drama's popularity overseas. He is receiving media reviews that he 'attracted Kpop fans worldwide into dramas' with 'Sweet Night' of the drama 'Itaewon Class,' which was his first solo OST. Even before the drama aired, BTS V's participation in the OST attracted much attention, which also foreign media spotlighted.
When BTS V's official release date of the OST was decided, foreign media expressed great interest in unison.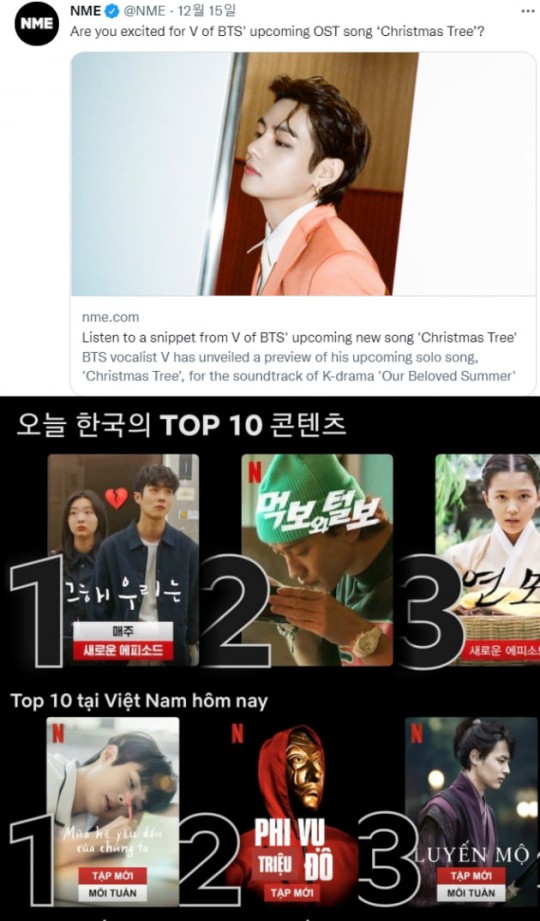 The famous British music magazine 'NME' noted that music director Hyeseung Nam worked on the song with V in mind. They reported that songs maximizing V's warm tone and singing ability became important points in the drama.
The OST teaser video was also popular, which ranked on the YouTube Worldwide Trending List. Also, the number of views exceeded 300,000, which is unusual for the drama teaser video.
As BTS V's participation in OST is drawing attention worldwide, the popularity of dramas is also soaring.
The Monday-Tuesday drama 'Our Beloved Summer' starring Wooshik Choi and Dami Kim began airing on December 6. It topped the Monday-Tuesday drama topic index in the second week of December. Then, it ranked first in the overall online video service (OTT) content viewing ranking in the second week of December.
Particularly, Netflix, where 'K content' is creating a global syndrome, 'Our Beloved Summer' is sweeping the top 10 of 'TV Show' categories in Korea and Asia after the 4th episode.
In Korea, it topped the list from December 15 to 18 in a row, and in Vietnam, it topped the list for four consecutive days from December 14 to 17. Also, it ranked 5th in Indonesia, Malaysia, Singapore, Thailand, the Philippines, Bangladesh, Hong Kong, and Taiwan. Then, it ranked in the top 10 of Netflix Japan, Sri Lanka, Maldives, India, Qatar, and the United Arab Emirates.
As the main characters' full-fledged stories unfold, the drama became a box office rush through word of mouth that it is 'fun,' especially among young people who mainly use OTT.
Read More About: BTS, Nominated At The UK 'Brit Awards 2022' For 2 Consecutive Years
agust d
,
best Kpop girl group
,
best kpop news site
,
best kpopstar
,
breaking news kpop
,
BT21
,
BTS
,
BTS Army
,
BTS BILLBOARD
,
bts butter
,
BTS fancam
,
BTS I'll Be Missing You
,
BTS J-Hope
,
bts jimin
,
bts Jungkook
,
BTS member
,
bts member Jimin
,
BTS member V
,
BTS Members
,
BTS News
,
BTS recent news
,
BTS routine
,
BTS solo songs
,
bts suga
,
BTS today
,
BTS trending news
,
BTS UPDATES
,
BTS V
,
bts valentine
,
BTSTREND
,
daily kpop news
,
Fandom
,
Filter
,
J-hope
,
JIMIN
,
Jin
,
JUNGKOOK
,
Kloud x BTS v
,
Korean celeb news
,
Korean singer
,
Korean singer songwriter
,
KPOP
,
Kpop album
,
Kpop beauty routine
,
Kpop boy group
,
KPOP BTS
,
KPOP BTS news
,
kpop celebrity news
,
Kpop chart and news
,
Kpop colllaboration
,
KPOP comeback
,
Kpop current news
,
kpop daily news
,
Kpop fashion
,
Kpop girls group
,
Kpop idols
,
Kpop issues
,
Kpop latest news
,
Kpop music chart
,
Kpop news
,
Kpop news articles
,
Kpop news sites
,
kpop news update
,
Kpop recent news
,
Kpop skin care routine
,
Kpop skincare routine
,
KPop trending news
,
KPOPNEWS
,
permission to dance
,
RM
,
Run BTS
,
South Korean singer songwriter
,
SUGA
,
TAEHYUNG KIM
,
the best kpop girl group
,
the best kpop girl group of 2021
,
the best kpop group of 2021
,
the top kpop group
,
top kpop boy group
,
top kpop girl group
,
V
,
weverse magazine