BTS V's 'Christmas Tree' music video has surpassed 10 million views on YouTube. The music video for 'Christmas Tree,' released on the YouTube channel of 'MOST CONTENTS' on December 24 last year, was very popular and recorded 10 million views on January 22.
'Christmas Tree' is the OST of the SBS drama 'Our Beloved Summer.'
Music director Hyeseung Nam worked with BTS V in mind from the planning stage. Director Nam revealed that 'BTS V's song will be an important code in the drama" and gathered so much attention before its release.
In fact, BTS V's 'Christmas Tree' appeared in the main scene of 'Our Beloved Summer.'
It raised viewers' expectations for the drama by maximizing the atmosphere and emotional lines of the drama.
In the first episode of the drama, 'Christmas Tree' played on LP vinyl in the studio of the main character Choi Woong (Wooshik Choi)' for the first time. It ranked first in the real-time trend and caused an explosive response worldwide.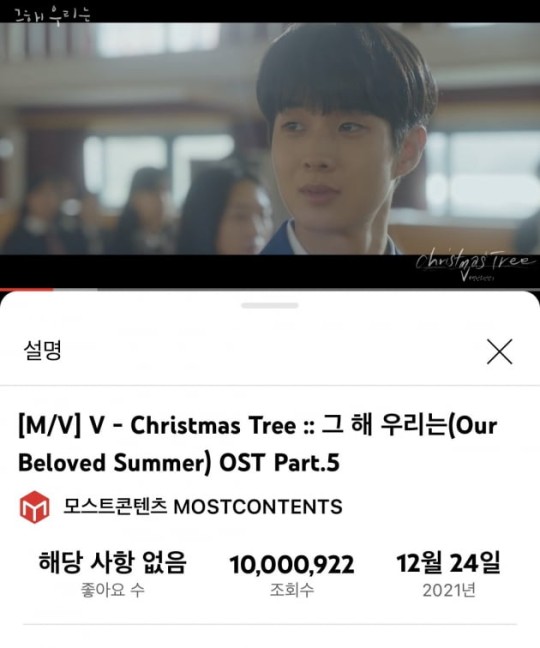 Next, 'Christmas Tree' climbed to number 79 on the Billboard Hot 100 chart. He achieved the feat of entering the main single chart for the first time in Korean OST history. Then, BTS V climbed to number one on the Billboard Emerging Artist chart.
In addition, BTS V set the record for the best debut of a Korean solo artist in the OST section on Spotify, the world's largest music platform. He boasted strong music power by breaking through 20 million streams in the shortest time among Korean male solo artists.
After its release in Japan, 'Christmas Tree' swept the Japanese charts, including No. 1 on the 'Oricon Daily Digital Single' ranking chart.
Also, it took 1st place on 'iTunes Top Songs' in 2 hours after its release. So, BTS V became the first record holder to occupy first place on iTunes in Japan as a solo artist song.
BTS V broke various records with 'Christmas Tree.'
He proves his presence as the strongest solo artist based on his unparalleled popularity.
Read More About: BTS V's Self-Designed 'Mute Boston Bag' Was Flexed By Actress & Model Soyoung Ko
agust d
,
best Kpop girl group
,
best kpop news site
,
best kpopstar
,
breaking news kpop
,
BT21
,
BTS
,
BTS Army
,
BTS BILLBOARD
,
bts butter
,
BTS fancam
,
BTS I'll Be Missing You
,
BTS J-Hope
,
bts jimin
,
bts Jungkook
,
BTS member
,
bts member Jimin
,
BTS member V
,
BTS Members
,
BTS News
,
BTS recent news
,
BTS routine
,
BTS solo songs
,
bts suga
,
BTS trending news
,
BTS UPDATES
,
BTS V
,
daily kpop news
,
Fandom
,
Filter
,
J-hope
,
JIMIN
,
Jin
,
JUNGKOOK
,
Korean celeb news
,
Korean singer
,
Korean singer songwriter
,
KPOP
,
Kpop album
,
Kpop beauty routine
,
Kpop boy group
,
KPOP BTS
,
kpop celebrity news
,
Kpop chart and news
,
Kpop colllaboration
,
KPOP comeback
,
Kpop current news
,
kpop daily news
,
Kpop fashion
,
Kpop girls group
,
Kpop idols
,
Kpop issues
,
Kpop latest news
,
Kpop music chart
,
Kpop news
,
Kpop news articles
,
Kpop news sites
,
kpop news update
,
Kpop recent news
,
Kpop skin care routine
,
Kpop skincare routine
,
KPop trending news
,
KPOPNEWS
,
permission to dance
,
RM
,
Run BTS
,
South Korean singer songwriter
,
SUGA
,
TAEHYUNG KIM
,
the best kpop girl group
,
the best kpop girl group of 2021
,
the best kpop group of 2021
,
the top kpop group
,
top kpop boy group
,
top kpop girl group
,
V
,
weverse magazine