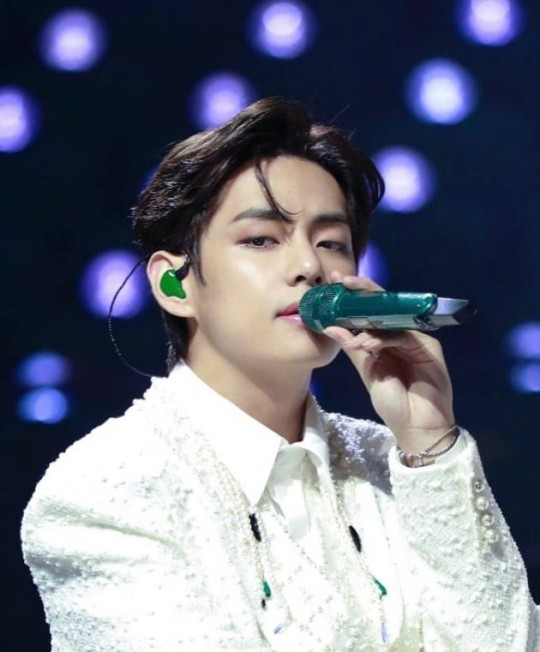 BTS V topped the Melon Weekly Popularity Award with 'Christmas Tree.'
V ranked first in the TOP 20 of the Melon Weekly Popularity Award in the 3rd week of January, continuing the domestic and international chart storm.
V is the first male idol solo singer to top the Weekly Popularity Award since 2021.
For the Weekly Popularity Award, the 20 most popular songs on Melon during the week are nominees. It selects the final number one by adding the music listening rankings and direct customer participation votes.
Melon, along with the abolition of the real-time chart in July 2020, significantly reduced the fandom's influence on the charts by establishing 24Hits, which allows one streaming per ID per day. To improve the difficulty of reflecting the latest trends, in 2021, they reorganized it into a TOP 100 chart that sums up the 24-hour performance and 1-hour usage at an equal rate.
Since it is practically impossible to enter the top 20 of the TOP 100 charts with fandom firepower alone without popularity. It has become very rare for a male idol solo singer to be nominated for a weekly popularity award.
With TV shows, entertainment songs, and traditional music players at the top of the charts, BTS V's OST became more popular as the drama episode progressed and achieved a reverse run on the charts.
In fact, BTS V was the only male singer among the three idol solos who ranked 14th in the TOP 100 charts. He ranked in the top 15 of this year with Taeyeon and IU. Also, V led the popularity of the 'Our Beloved Summer' OST. During the OST's release, V ranked first in the Melon Artist Chart 'Men's Sol.'
He proved his hot popularity by ranking first in four categories. It includes the Ballad genre, OST genre, Most-searched song, and Favorite song' in the 'HotTracks' chart.
The number of users increased steadily. It broke the record for the highest number daily among male idols in the shortest period. BTS V recorded the highest daily number of 173,991 users and 1 million cumulative viewers. Minho Song of WINNER is the only male idol solo that has exceeded 100,000 daily top users.
V is the first member of BTS to rank first in the Melon Weekly Popularity Award. It only shows V's aspect as a complete solo artist with both popularity and support from a solid fan base.
Read More About: BTS Jin 'Super Tuna' Craze Hits 49.5 Million YouTube + Related Hashtags Surpassed 450 Million Views
actress IU
,
agust d
,
best Kpop girl group
,
best kpop news site
,
best kpopstar
,
breaking news kpop
,
BT21
,
BTS
,
BTS Army
,
BTS BILLBOARD
,
bts butter
,
BTS fancam
,
BTS I'll Be Missing You
,
BTS J-Hope
,
bts jimin
,
bts Jungkook
,
BTS member
,
bts member Jimin
,
BTS member V
,
BTS Members
,
BTS News
,
BTS recent news
,
BTS routine
,
BTS solo songs
,
bts suga
,
BTS trending news
,
BTS UPDATES
,
BTS V
,
daily kpop news
,
Fandom
,
Filter
,
IU
,
IU news
,
iu songs
,
iu tv
,
IU updates
,
iu works
,
J-hope
,
Jieun Lee
,
JIMIN
,
Jin
,
Jinwoo Kim
,
JUNGKOOK
,
Korean celeb news
,
Korean singer
,
Korean singer songwriter
,
KPOP
,
Kpop album
,
Kpop beauty routine
,
Kpop boy group
,
KPOP BTS
,
kpop celebrity news
,
Kpop chart and news
,
Kpop colllaboration
,
KPOP comeback
,
Kpop current news
,
kpop daily news
,
Kpop fashion
,
Kpop girls group
,
kpop group winner
,
Kpop idols
,
Kpop issues
,
Kpop IU
,
Kpop latest news
,
Kpop music chart
,
Kpop news
,
Kpop news articles
,
Kpop news sites
,
kpop news update
,
Kpop recent news
,
Kpop skin care routine
,
Kpop skincare routine
,
KPop trending news
,
KPOPNEWS
,
minho song
,
permission to dance
,
RM
,
Run BTS
,
Seunghoon Lee
,
Seungyoon Kang
,
singer IU
,
South Korean singer songwriter
,
SUGA
,
TAEHYUNG KIM
,
the best kpop girl group
,
the best kpop girl group of 2021
,
the best kpop group of 2021
,
the top kpop group
,
top kpop boy group
,
top kpop girl group
,
V
,
weverse magazine
,
WINNER
,
WINNER members